#ncga: Show Beverly Boswell some love this coming Election Day
One of the few good chances we conservatives have this year to switch a liberal vote in the NC House to a conservative one is in House District 6 on The Outer Banks.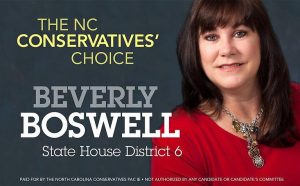 Dare County Commissioner Beverly Boswell is seeking to replace Democrat-turned-Unaffiliated legislator Paul Tine, who decided not to seek reelection this year.  Tine had a spat with his caucus, registered unaffiliated, and began caucusing with Republicans.  Though, he continued to vote as a liberal. 
The seat is winnable for a conservative Republican.  Now-senator Bill Cook took the seat in 2010 from a long-serving Democrat.  Here's a little taste of what we'd get from  a Rep. Boswell: 
[…] Friendly, and quick to laugh in conversation, Boswell is an outspoken and aggressive advocate for her conservative values. While a number of the candidates who ran for Tine's seat issued announcement statements that weren't particularly partisan in tone, Boswell's pointedly criticized "failed left-wing Obama policies" and declared that, "I reject the notion that Republicans have to be politically correct or sound like Democrats to win elections in North Carolina."

On the biggest political hot button issue currently consuming the state – the so-called "bathroom bill" (HB2) — Boswell characterizes herself as "a huge supporter of HB2. I don't think men and women should shower together, especially children." […]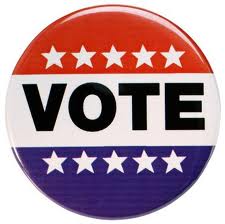 My sources in her neck of the woods tell me she'd be a fighter on Jones Street in the mold of Chris Millis, Larry Pittman, Mike Speciale, and John Blust.  I hope so.  Those guys need all the help they can get.
If you live in that district — Dare, Beaufort, or Washington counties — send her some money and give her your vote.  Encourage your friends and neighbors in the district to do the same.  If you live outside of that area, but have friends or family in the district, encourage them to get behind Ms. Boswell.
This one's important.  It's another example of why you need to keep going down the ballot after marking Mr. Trump's name.