#ncga: Moore, Lewis. (Pay to Play, anyone? )
Speaker Tim Moore's *faaaaaaaaaavorite* TV reporter is at it again: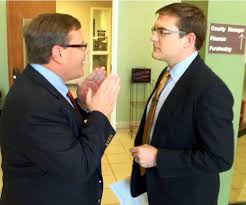 State Representative David Lewis (R-Harnett), who chairs the powerful House Rules Committee, is answering new questions about changes made to a bill that, if passed, would have benefitted a campaign donor.

The questions come less than a week after a fellow Republican member of the State House filed a complaint with the North Carolina Ethics Commission against Lewis over last-minute changes made to a different bill that benefitted a friend and donor of Lewis.

At issue in the latest round of scrutiny are changes made to House Bill 38, part of which sought to drastically reduce the number of agencies required to receive printed copies of appellate court decisions.

State law requires more than 1,000 copies of appellate division reports be distributed to more than three dozen agencies and groups of government officials—including judges, clerks of court, and numerous law libraries.

One company holds the contract to print the reports. A copy of the contract obtained by On Your Side Investigates from the North Carolina Administrative Office of the Courts shows periodical updates must be printed throughout the year in addition to hard-bound volumes of the full year's published opinions.

The five year contract, as currently written, amounts to roughly $2.1 million. It's hard to put an exact value on the contract because payment depends on the number of pages ultimately included in each volume and update.
Here's the contract we're talking about.  MORE: 
The AOC printing contract is held by Capital Marketing Solutions, which is owned by New Bern businessman Owen Andrews.

[…]  Lewis reported receiving a $1,000 contribution from Andrews on May 19, 2015. It was the second contribution Lewis had received from Andrews in 2015. Andrews had already contributed $1,000 in late January.
New Bern is WAAAAAAAAAAAAAAAAY outside of Lewis's legislative district.  (Jus' sayin'.) MORE: 
Speaker Tim Moore (R-Cleveland) reported receiving a $1,000 contribution from Andrews on June 26, 2015.

The General Assembly was in session at the time both contributions were received.
New Bern is WAAAAAAAAAAAAY  WAAAAAAAAY outside of Moore's Kings Mountain-centered district. (Jus' sayin'.)  MORE:
Both Lewis and Moore have said the contributions were in response to generic end-of-quarter fundraising mailers.

But a review of campaign finance records show stark difference in the way in which the two campaigns reported Andrews' contributions.

Moore's campaign listed the contribution from Andrews using his correct name and his business as Capital Marketing Solutions, the company that holds the AOC printing contract.

Lewis' campaign misspelled Andrews' last name—it omitted the 'd' in Andrews—and listed his employer as Kennell Development, a business that Andrews also owns but is not associated with the printing contract. The name of the listed company also misspelled.
Wow.  Just like calling the tow truck company operator a "teacher."  MORE: 
Lewis called the spelling errors a clerical mistake and said Andrews had always reported his employer as Kennell Development in previous contributions dating back to 2013.

"I'm embarrassed by it. You were the first one to call my attention to it," Lewis said.

He blamed the errors on his accountant even though he was certified as his campaign's own treasurer at the time the report was filed.
Wow.  The same excuse he used with the tow truck guy, too.  MORE: 
Lewis made similar mistakes in reporting contributions from a longtime friend and campaign donor who also benefited from changes made to other legislation this session.

Like Andrews, the other donor had made contributions to Lewis during the 2015 session.

Allegations regarding that matter are the subject of an ongoing ethics complaint filed by Representative George Cleveland (R-Onslow).

Cleveland has declined to make details of his complaint public.

Legislation pulled from committee, changed

House Bill 38, which would have drastically reduced the number of appellate division reports required to be printed, had passed through the Committee on Judiciary II and was in the Appropriations Committee when it was abruptly pulled and sent to the Rules Committee—chaired by Lewis—in early June.

The move to pull the bill from committee came exactly two weeks after Andrews' May contribution to Lewis.

More than a month later, on July 22, 2015, the Rules Committee reported a favorable substitute to the original bill that restored requirements to print appellate division opinions for the long list of agencies, judges and other officials.

The substitute bill was approved on a day in which one of the bill's two primary sponsors, Representative Justin Burr (R-Stanly), had an excused absence, legislative records show.

In an interview with On Your Side Investigates, Lewis said the changes to the bill were made because a second bill had already passed through the house that allowed agencies and officials to opt out of receiving printed copies of appellate division reports.

"The bill was changed on the advice of our central staff because it was in conflict with a law we had just passed," Lewis said.

When pressed if Andrews' contribution had any influence on changes to the bill, Lewis insisted it did not.

"Mr. Andrews and I never discussed his contribution and, to my knowledge, never discussed his bill," Lewis said.

Similarly, in a statement, Speaker Moore said he did not know Andrews and had no recollection of the procedural history of HB-38.

Moore deferred questions about the bill to Lewis.

Ultimately, the original language that sought to reduce the printing requirements was restored in a different committee and the bill was approved by the House with the requirements to no longer print and distribute appellate division reports to the long list of agencies, judges and officials.

The bill was sent to the Senate, where it stalled and was never voted on.

In an email to On Your Side Investigates, Andrews said the value of his company's contract with the AOC has still been greatly reduced because of the separate bill that allowed agencies to opt out of receiving the printed reports.

"The contract you refer to was greatly reduced by the General Assembly this session which certainly leaves a question mark about your story as it pertains to me. The monetary value went down," Andrews said.

[…]