#ncga: GOP reps. Millis, Hager step into Burr-Moore fray
State Rep. Justin Burr and Speaker Tim Moore have been very publicly exchanging some very heated words over the last few days. Now, House Majority Leader Mike Hager is stepping into the fray — taking issue with Moore's characterization of Burr as "ineffective" and not knowing what's best for his district: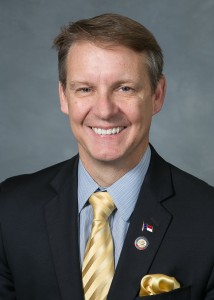 […] Reached by phone Wednesday, House Majority Leader Mike Hager (R-Rutherford) said he viewed his role as a caucus leader as one that requires him to support all members of the caucus.


"I would never lay into a member and determine what is good for his district or bad for his district," Hager said.

Hager said he prefers to hear criticism from members of his own party over praise and compliments.

"I want folks to tell me what I'm doing wrong. I appreciate the feedback," Hager said. "It's a sad day when we don't want to hear the negative results of our actions."

The majority leader declined to say whether Moore's comments about Burr were appropriate but did say Burr was a valuable member of the caucus, like every other House Republican.

"He's really the leader of the conservative movement in this caucus," Hager said. "Justin, to me and from what I've seen him do, is very effective."
Wednesday evening, state Rep. Chris Millis (R-Pender) sounded off on the kerfluffle in an open letter to the speaker circulated via email to his colleagues in the GOP caucus:
Mr. Speaker, instead of airing this letter publicly, I hope you find my attempt to respectfully handle the matter within the caucus successful.  I find it regrettable what is occurring in our ranks.  I find it even more regrettable that instead of respectfully handling, ignoring, or refuting Burr's claims that you chose to fire back an paint him as "disgruntled," "ineffective" and "irrelevant," adding that "the folks in his district deserve better…"  

It is understandable that you as our current speaker would want to respond to such sharp criticism, and you have every right to do so. But rather than address the issues that were raised, or completely ignore the matter, you validated the member's allegations…this is truly unfortunate to do so publicly.  Make no mistake, I am not endorsing what Burr did as right or proper but I am shocked by the reaction. 

As the speaker you hold the power of the gavel, and you decide who will hold committee chairmanships and assignments…you can paint the picture of "effectiveness".  Is it proper for a speaker to purposely marginalize members, paint them as "ineffective" and then call on their district to choose better?  While Burr calling you out publicly may not be proper, is your reaction valid?  What is going on here?  

The purpose of this private email is only to ensure members have the opportunity to stand on principle, rather than be diminished by fear of controlled "effectiveness" created by the corner office. It is my desire to legislate and lead on the Republican principles that my constituents sent me to Raleigh to advance, for the prosperity of our state and its citizens…not to blindly yield to the power of the gavel.  Again, I am alarmed by what is going on…

Mr. Speaker, I humbly ask that you handle any adversaries (Democrat or Republican) on grounds of fact and truth, rather than wield your influence to characterize members as "ineffective," and to call upon their constituents to choose another candidate that will yield to power and politics instead of Republican principles. I am alarmed and discouraged by what is occurring…I hope it can be made right quickly and that you will treat my comments with respect.