#NCGA: Captain Obvious files his copy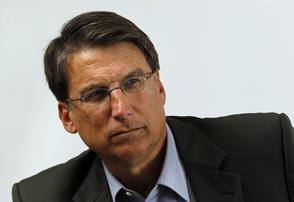 McCrory rift with Senate may stall NC budget.   Ya Think ????
That was the eloquently succinct and prescient headline atop the latest missive from McClatchy-Charlotte's genial geriatric Jim Morrill. It looks like he's noticed that our governor's public antics are not helping to, um, "get things done":
The feud has been a running subtext to North Carolina's legislative session, with threats and perceived insults occasionally flaring into headlines.

Now some say it may be contributing to the state's budget impasse.

Tension between Republican Gov. Pat McCrory and GOP Senate leaders, particularly President Pro Tem Phil Berger, has colored a session that lawmakers hoped to adjourn by July 4.

GOP senators say McCrory, more than previous governors, has injected himself into the budget battle, further complicating controversies over teacher pay and Medicaid funding.

"It's not helping," says Sen. Tom Apodaca, a Hendersonville Republican who chairs the Rules Committee. "I don't think the daily communication attacking our budget is helpful at all." […]
Absolutely.  I sure can't see the wisdom in publicly berating the very people you need to help get your agenda passed into law.  Especially when those people are in your political party and helped you get into office.  MORE: 
[…] On budget issues McCrory has consistently sided with the House and its Republican speaker, Thom Tillis of Huntersville. When the governor held a news conference on education at the Executive Mansion last month, it was Tillis and House members invited to stand with him, along with teachers and school officials.

McCrory downplays a rift with the Senate. To him it's broader.

"There's tension between the Senate and about everyone, including the executive branch, the House, teachers, superintendents, doctors, mayors, the speaker and even airport directors," he says.
There's an institutional history here … where the Senate leadership exerts a great deal of power and influence over government policy and legislation with very little pushback. … I'm pushing back for good policy."

Michael Bitzer, a Catawba College political scientist, says it's partly ideological.

"You're starting with a (Senate Republican) caucus that is not only more conservative but generally tends to be more rural in their representation," he says.
Actually, it's more like a struggle between people who stand by the principles in the GOP platform vs. folks who view the GOP like another social club along the lines of Rotary or Kiwanis. 
Further down in Morrill's piece, it becomes clear that Gov. Pat may need a re-do on high school civics:
The dispute comes down to power, and different views of their respective roles.

McCrory says other governors have seen their budget recommendations virtually ignored by lawmakers. "Before I sign something, I want to make sure I have as much input as possible," he says.

Senators say that under the state constitution, legislators make the laws. The governor enforces them.

"Government 101," says Republican Sen. Bob Rucho of Matthews. "There are three branches (of government). One doesn't dictate to the others."

In an interview on Charlotte radio station WFAE last week, McCrory compared Senate leaders to Democratic leaders in Raleigh and Washington.

"Some of my Senate Republicans, when they got the majority, they're trying to replicate (the Democrats)," he said. "That's frankly the culture I wanted to change."
Gov. Pat is the one talking about how Medicaid expansion — a vital component of ObamaCare — is "not off the table." Gov. Pat is the one loading up his administration with Democrat partisans. Tell us again — WHO is trying to replicate the Democrats? 
"I'm an outsider," McCrory says, "and my goal is to change the culture, not necessarily embrace it – whether it's done by Republicans or Democrats."

Some GOP senators say McCrory is more critical of his fellow Republicans than he was of his Democratic opponents, including former Gov. Bev Perdue.

Tucker says McCrory appears to have "some real animosity" toward Senate leaders: "I don't think he's taken the class on 'Winning Friends and Influencing People' in the Senate."

Says McCrory: "I'm the only person right now elected by all the people of North Carolina. I'm not in a district, so I'm speaking on behalf of people outside the (Raleigh) Beltline."
Ahem. Dan Forest — our lieutenant governor, who is the constitutional leader of the state Senate — was also elected statewide.  Also, most all of the senators represent constituents outside the Raleigh beltline.  (Nice try, though.)