#ncga: Brock for Congress? (*Um, SURPRISE !!!*)
The worst-kept secret in North Carolina politics is NO MORE: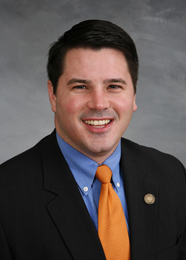 […] A North Carolina Republican state senator says he'll run to represent the reshaped 13th Congressional District in which he now lives.

Seven-term Sen. Andrew Brock of Davie County announced his candidacy on Monday. The legislature approved a new map last week with a Republican-leaning 13th that covers all of his home county and Davidson County, as well as portions of Iredell, Rowan and Guilford counties.

Democratic 12th District Rep. Alma Adams lives in the new 13th, but Adams says she'll run in the reconfigured 12th, which is now in Mecklenburg County.

Brock joined the Senate in 2003 at age 28. Brock says in Congress he would work to defend Christian values, balance the budget, fight terrorists and close down "our porous borders."[…] 
AND he will continue in his role as state chairman for Marco Rubio — who supports NONE OF THAT. 
Here's more on Brock from Ballotpedia: 
[…] Brock earned his B.S. in economics and political science from Western Carolina University in 1998. He currently works for RCS Communications Group as a Consultant. Brock has been active in state politics as a campaign aide for Lauch Faircloth and a campaign manager for Bill Cobey and Walter Jones. […]
Hmmm.  Sounds a lot like Richard Hudson, Patrick McHenry, AND David Rouzer.  This is getting to be a lot like 'The Stepford Wives — um, Candidates."   A group of young guys who go from college right into 'runnin' thangs' without the benefit of a real job or any real world experience. 
If I lived in any of those counties in the new 13th district, I'd be livid that Raleigh is pushing a new congressman of their choice ON ME. Want to teach Raleigh a lesson?  Defeat THIS guy in his Senate race AND in the congressional race.