It appears the Jacksonville area and Onslow  County will be well-represented in the campaign to replace retiring US Rep. Walter Jones in 2020.
Vanessa Sapp of Sneads Ferry has released a video and website announcing the formation  of an exploratory committee for a congressional run in The Third Congressional District.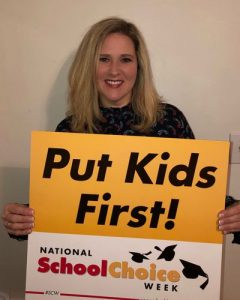 in the video, Sapp stakes out her main issues as the opioid crisis and health insurance reform.  (Sapp mentions that her work fighting the opioid crisis was inspired by her son's 2016 death from a drug overdose.)  She says she works at a charter school, and is pictured on her website at  "school choice" functions and rallies.
I couldn't get a sense of what party primary Sapp wants to run in. (The shirt she's wearing in the photo above may offer a hint about her political sympathies.)   She has been registered "unaffiliated" with the state board of elections since 2010.  Sapp first voted in 2012, and has only voted ONCE in primaries — the 2016 GOP primaries.
On her video, Sapp states that her committee's initial goal is $5,000 in five days.  At the congressional level, that's setting the bar really low.  Typically, you need at least low six figures to run a competitive race for the US House. 
If Sapp makes it official and files, she will be the third committed candidate.  Phil Law (R) of Jacksonville via Wake County, a 2016 and 2018 candidate for the seat , has already announced — as has  state Rep. Phil Shepard (R) of Jacksonville.   Paul Wright (R) of Dare County has also stepped forward.
Two more state legislators — Michael Speciale (R) of Craven County and Greg Murphy (R) of Greenville — are expected to announce and file.  NCGOP vice chairman Michele Nix of Lenoir County is expected to file for the seat.
Craven County commissioner Scott Dacey (R), a 2018 candidate for the seat, is also expected to file.   The only Democrat name being thrown out there is former Greenville mayor Allen Thomas.
So, if no new names pop up, Third District voters could have eight candidates (Six Republicans, 1 Democrat,  1 Unaffiliated [?]) to choose from in the 2020 congressional race.  As things stand, it will take only 30 percent of the primary vote to avoid a runoff and make it into the November general election. 
It looks like the record 17 candidates in the 2016 GOP primary race for the 13th congressional district is SAFE.