NC-02: Reality, meet Renee. Renee? Meet Reality.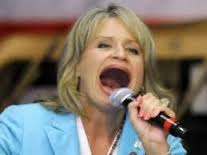 Congresswoman Renee Ellmers was in one of her favorite places — Raleigh — to talk about how jonesed she is about the fight against ObamaCare.  It's as though 2013 NEVER HAPPENED.
In August of that year, we were in the heat of an effort to defund that legislative terror.  Senator Ted Cruz (R-TX) and Congressman Mark Meadows (R-NC) were desperately seeking allies to help them halt the advance of ObamaCare.  What was Ellmers's response to their pleas?  Absolutely NOT. 
In a September town hall meeting in Pinehurst, she argued with constituents seeking her help in the fight against ObamaCare.  She basically told them it was a done deal since Mitt Romney lost.
In 2011, right after she was elected, Renee went to the Heritage Foundation and told them it would be a great idea to use a continuing resolution to defund ObamaCare.
Renee has shouted down constituents concerned about her lack of action on stopping amnesty.  Now, she's talking out of both sides of her mouth on the issue:
[…] One of the major lingering issues is immigration. The Senate passed a comprehensive immigration bill, but nothing came out of the House.

Ellmers, who had vocal opposition from some constituents on her position on illegal immigration, said the House was close to coming up with its own bill.

Ellmers stressed that the border with Mexico must be secured, but she also proposes offering immigrants "earned legal work status" if they admit they entered the country illegally and pay a fine.

"Border security has to be the first part of it, and laws already on the books have to be enforced," she said.

Sections of the border that are difficult to patrol can be monitored with advanced technology, Ellmers said.

Most workers in the country illegally don't want to be U.S. citizens, she said, but want to be free of fear of deportation and want to be able to travel to their home countries and be able to return to the United States.

People who earn legal work status and want to become citizens would have to go "to the end of the line" and in applying for naturalization, she said.