#ncsen: Tillis campaign internal poll says Hagan 44, Tillis 42, Haugh 6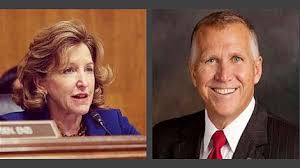 A month ago, the SAME pollster had the race at 44-44-8. How can this be viewed as good news for Tillis, you ask?  National Journal has the 4-1-1 on this latest leak: 
Thom Tillis narrowly trails Democratic Sen. Kay Hagan in the North Carolina Senate race, according to an internal poll conducted for the Republican challenger's own campaign, but the incumbent is struggling to attract support among voters who indicated they were most likely to cast a ballot in November.

[…] The poll—which, like all internal surveys leaked to the media, should be viewed warily—was taken Oct. 4-7 and interviewed 600 likely voters. It has a margin of error of plus or minus 4 percentage points.

Hagan has unexpectedly emerged as the strongest Democratic incumbent in a Senate battleground this year, holding a narrow but consistent lead over Tillis in a state that backed Mitt Romney in 2012. It has been months since any public poll showed Tillis ahead. But Tillis's campaign, in a memo, argued that her small edge depends on turning out voters among the least likely to vote on Election Day. The poll found that the Republican actually leads Hagan 47 percent to 43 percent among voters who rated their interest in the election, on a scale of 1 to 10, at 8 or higher. That bloc that constitutes 75 percent of the total electorate polled.

Hagan also benefits from the small but significant support for Haugh, the Libertarian candidate. But it's unclear how much of his current share he'll maintain until November.Traditionally, third-party candidates lose support as Election Day approaches, and POS found that his support has already shrunk since May, when he drew 9 percent.

The Tillis campaign argues that Hagan's inability to reach more than 45 percent support is proof that Tillis can capture victory with a late surge in momentum, aided by a pool of undecided voters who disapprove of President Obama by a margin of 57 percent to 37 percent.
Inability to reach more than 45 percent?  Real Clear Politics has her exceeding 45 percent on FIVE of SEVEN public polls since September 14.  At the end of September, Civitas had Hagan at 50 percent. MORE: 
"Thom Tillis has a clear path to victory despite being outspent in negative attacks by outside money," the POS pollster who conducted the survey, Glen Bolger, wrote in the memo. "Tillis has a momentum advantage. He has a turnout advantage. Democrats will intensify their attacks in an effort to deny the GOP a Senate majority. This election is going down to the wire."

The sample is 72 percent white and 21 percent African-American.