McHenry, Jones facing spirited 2012 primary challenges from the right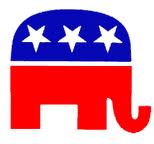 Republican congressman Patrick McHenry (NC-10) is being hit hard by his GOP primary opponent Ken Fortenberry, a retired newspaper journalist and publisher in Lincoln County.  Fortenberry suggests McHenry is talking the Tea Party talk, but is in reality too comfortable with the Washington establishment.
Fortenberry has been pressuring McHenry, a member of the House Financial Services Committee, to sponsor and support HR 1148, which makes insider trading laws that apply to all of us also apply to Members of Congress.    Some papers in the district have echoed Fortenberry's challenge to McHenry:
Congressional candidate Ken Fortenberry today called on U.S. Rep. Patrick McHenry to quit protecting his corrupt colleagues and immediately cosponsor legislation that would prohibit insider trading of securities by members and employees of Congress.

"It's time for Mr. McHenry to end his silence on this important issue and to start doing the right thing for the people he represents," said Fortenberry, the congressman's Republican opponent in next May's primary. "The politicians in Washington continue to get the gold mine while the people get the shaft.

"The corruption in Washington is an outrage to everyone, but instead of standing up and speaking out against it, my opponent continues to condone the despicable and unethical behavior of people who somehow think they are above the law," Fortenberry continued. "No wonder the approval rating of Congress is at an all-time low."

Fortenberry said that he supports H.R. 1148 – the STOCK (Stop Insider Trading on Congressional Knowledge) Act, legislation that would prohibit lawmakers and employees of Congress from buying and selling securities based on nonpublic information they obtain because of their status.

McHenry, a member of the House Financial Services Committee, is not supporting the legislation and has remained silent on the issue.

Insider trading by lawmakers attracted national attention and outrage with the recent publication of a new book, "Throw Them All Out" by Peter Schweitzer and featured on the CBS News program "60 Minutes." The book outlined unethical activity by members of Congress, and pointed out at that Rep. Spencer Bachus, R-Alabama, made more than 40 stock trades in his personal account in the months before the U.S. economy collapsed in 2008. Bachus is chairman of the House Financial Services Committee and received "insider" information about the failing state of the U.S. economy.

"After he received a private briefing on the impending collapse of the economy and the U.S. financial system from the Federal Reserve and Treasury officials, Rep. Bachus bought and sold securities that nearly doubled his money," said Fortenberry.

"Rep. Bachus should resign today, and Mr. McHenry should show him the door – right after McHenry signs on as cosponsor of the STOCK Act," said Fortenberry.
Fortenberry's questioning of McHenry's conservative credentials has spread to Jeff Taylor, a blogger for The John Locke Foundation's "Meck Deck":
Posted February 8th, 2011 at 8:25 AM by Jeff A. TaylorNot if McHenry is defending the bankers and bond dealers when an analyst stands up and calls bullcrap on the muni market.

Meredith Whitney no doubt hit the banksters in the wallet by predicting massive defaults in the municipal sector. Money has run for the exits in recent months. And? So? This merits a Congressional investigation? Only if McHenry is a wholly-owned subsidiary of Big Money.

Municipal debt ratings have long been inflated by and benefited from the assumption that governmental entities had rock-solid revenue streams. Well, the last two years have proven that many governments (ahem) have relied on positively fantastic revenue assumptions. And the ratings agencies and deal placers went right along with those assumptions. It was fraud on a massive scale. Now, someone comes along to point out that the New Normal might not throw off enough revenue to pay the massive debt bills — off with her head!

Check the supposed "solution" the banksters tout to prove Whitney is wrong and defaults cannot happen. State-imposed financial control boards that would seize tax dollars as they come in to pay down debt, essentially jumping the bond holders to the front of the line, ahead of local taxpayers and citizens. This is an admission that in many cases AAA ratings were a joke, that the political risk of non-payment of the debt was not properly priced into the offering. This gets us to the heart of the matter, if Rep. McHenry cares to pay attention. […]
On the eastern side of the state, retired New Bern police chief Frank Palombo is going after Congressman Walter Jones (NC-3) from the right.  Palombo has been hitting Jones for veering left on votes  in support of light bulb bans and against legislation supporting the on-going war on terrorism.
In the Sixth District, incumbent Republican Howard Coble of Greensboro is recovering from illness and being rather noncommittal on running for reelection.  If Coble decides against running, there would be yet ANOTHER spirited GOP primary for Congress in May.
The GOP presidential race will likely be decided by May.  Pat McCrory has no serious competition in the GOP primary for governor. These two — potentially three — GOP primaries should give voters something other than gay marriage to drive them to the polls in May.