McClatchy Rob: Kissing up to Berger. Still struggling with Math.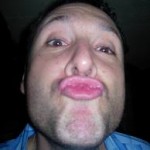 It's tough being North Carolina's "Mr. Politics."  People jump on you for things like: (1) following John Edwards around and failing to notice the blonde with the camera, (2) failing to notice then-Lt. Gov. Dennis Wicker stiffing a Domino's Pizza delivery guy, and (3) being the first and — as far as we know — ONLY member of the state's drive-by media to be physically and forcibly removed from a NCGOP convention.
Rob Christensen has carved quite a niche for himself in Raleigh brown-nosing and taking dictation for Democrat shot-callers in Raleigh over the past few decades.  Now that the Democrats have been banished to Siberia and the GOP controls the whole ball of wax, Rob is looking a little frustrated and lonely.  He's done his share of hit pieces on Gov. Pat — so Team McCrory is not interested in being friends.  Thom Tillis is working on a move to DC.  Phil Berger is hanging around in the top job at the state Senate –so Rob has apparently decided to try and make friends:
Here is the fallout from North Carolina Senate leader Phil Berger's decision to forgo a challenge to Democratic U.S. Sen. Kay Hagan next year.

It cements Berger's role as the new Marc Basnight, the most powerful figure in state government.
*SMOOOOOOOOOOOOCCCHHHH!*
And it sets up a classic insider/outsider GOP Senate primary between House Speaker Thom Tillis and the Rev. Mark Harris, president of the Baptist State Convention.
Um, Rob.  My information suggests that there are FOUR Republicans looking to oppose Kay Hagan in November 2014.  Rob mentions Harris and Tillis, but neglects to mention Greg Brannon and Heather Grant.
And Harris vs. Tillis is insider vs. outsider?  I agree about Tillis being an insider.  But Harris's campaign is being run by nationally-renowned GOP establishment consultant Tom Perdue, former NCGOP chairman Robin Hayes, and former NCGOP staffer Mike Rusher.  Yeah.  THAT SCREAMS "outsider."
After weeks of exploring a possible bid and even running TV ads criticizing Hagan, Berger announced last week that he will seek re-election to the state Senate. As tempting as a U.S. Senate bid would have been, Berger would have been risking a certain power base in exchange for a roll of the dice.

In Raleigh, he has been the key architect of the conservative revolution. But Berger is not well-known across the state, according to polls, and there is no guarantee that he would have won the GOP primary or, if he survived that test, the general election.
*SMMMMMMOOOOOOOOOOOOOOOCCCCHHHHHH.*    Seriously.  Is there ANYBODY seriously plugged into NCGOP politics who honestly believed Berger was seriously considering a run for the US Senate?  My sources in Jones Street's upper chamber told me MONTHS ago it was all a bunch of BUNK.
Even if he had won election, Berger, 61, would have been a rookie in what would likely be a Senate led by Democrat Harry Reid or Republican Mitch McConnell. Instead, Berger will continue as the most influential figure in North Carolina politics as long as the Republican hegemony continues in Raleigh.

With his decision to continue residence in the southeast corner of the Legislative Building, Berger is entering Marc Basnight territory.

Basnight was the powerful Democratic leader of the state Senate who for 18 years was the leading figure on Jones Street, casting his shadow over House speakers and governors.

Basnight and Berger are different politicians. Basnight's legacy was advancing the University of North Carolina system and pushing conservation measures. Berger's legacy is likely to be tax cuts, cutting regulations and shrinking government. Basnight was no liberal – he was a small-business man who voted for Jesse Helms and was against abortion – but next to Berger he looks like one.

But like Basnight, Berger is a political pro.

Tillis has struggled to maintain discipline in the House caucus, has sometimes put his foot in his mouth, and has had a contentious relationship with the news media. Gov. Pat McCrory has faced a sharp learning curve since he took office in January and has been dominated by the legislature.

Berger's Senate caucus, by comparison, has run smoothly. He has been gaffe-free, and he has maintained a professional relationship with the news media. As a deep-dyed conservative, Berger knows what he believes and appears comfortable in his own skin.
*Sigh.*  Time to get a room?  (I would think it would be quite uncomfortable in someone else's skin.)
There are other candidates in the GOP primary, but Tillis and Harris look like the major players. A Tillis/Harris tilt will likely draw national attention. Karl Rove plans to attend fundraisers for Tillis in November.
Again, Rob partakes in the drive- by tactic of refusing to mention Greg Brannon.  It's a mistake to count Brannon out.  He's evoked significant interest from the Cruz-Paul-Lee group in DC as well as other major Tea Party groups.  Polling has been showing Brannon running quite competitively against Kay Hagan.
Operatives for Harris AND Tillis have already started a whisper campaign of slander against Brannon. (Tillis operatives have actually gotten quite vulgar.) If Brannon is such a non-factor, why are these two "major players" paying so much attention to him?