Is SOMEONE'S Potomac Fever screwing over NC's microbrewers?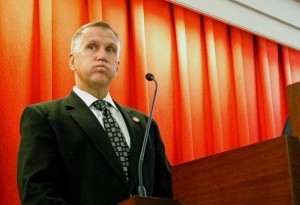 A Greensboro TV station ran a report about a local restauranteur frustrated about not being able to sell the beer he, himself, brews. State law requires wholesalers to be inserted into those transactions as middlemen.
Earlier we posted about efforts by craft brewers to get the General Assembly to change those laws. While those efforts were underway, beer wholesalers were pouring money into the campaign treasuries of now-US Senate nominee Thom Tillis and several of his state House allies.  And surprise, surprise — the effort to loosen the wholesalers' stranglehold got stymied in the House.
What makes all of that even more surprising is that the state is making the development of a craft brewery industry in North Carolina a centerpiece of its economic development strategy.
What surely makes things more painful for folks like this Greensboro restauranteur is the fact that Tillis is skipping out on the General Assembly session this week to attend fundraisers organized by the beer wholesalers' national lobbying network.
On the face of it, this is a no-brainer.  Get government out of the way and let the market work its magic in this business.  Offering protection to the interests of these wholesalers while pocketing oodles of cash from them stinks to high heaven and corrupts the GOP's ability to offer itself up as a credible alternative to the statist, autocratic methods of the Democrat Party.