ICE, ICE Baby (Lee County, NC re-mix.)
I swear.  You can't make this stuff up.  Here's Lee County Sheriff Tracy Carter (R):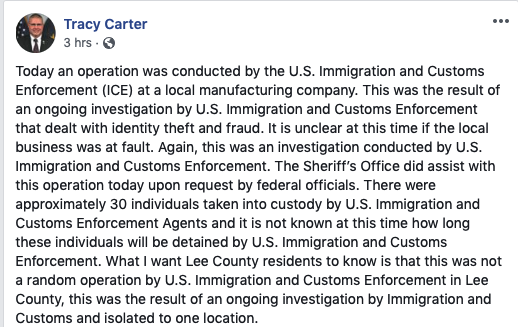 Here's more from our favorite band of snowflakes from Lee County:
[…] Agents from Immigration and Customs Enforcement (ICE) arrested approximately 30 men and women for "identification theft and fraud" from Bear Creek Arsenal — a manufacturer of AR-15 firearms and firearm products — in Sanford this morning.

The incident has led to several Latino-owned businesses in Sanford closing their doors today.

According to the Raleigh-based online news site QuéPasa, ICE agents entered the Bear Creek facility, located at 310 McNeill Road in Sanford, at around 8 a.m. Tuesday morning. Sources told the Rant that at least 70 people were detained, though Lee County Sheriff Tracy Carter could not provide a number of people taken into custody [Carter later posted on Facebook the number arrested was closer to 30].

"There was an ICE raid on a local business today," Carter told The Rant. "It was something ICE had been working on for a while. We did assist with the operation. We don't know how many people were taken into custody."

State troopers, federal agents and Lee County deputies could be seen pulling over cars along U.S. 1 near the Burns Drive exit as early as 7:30 a.m. Tuesday (Burns Drive is one of two entrance ways to Bear Creek Arsenal). Carter wanted to stress that this was not a "random search," and said there were "extenuating circumstances concerning identification theft and fraud."

"[ICE] didn't just show up here and go to a random business and start rounding people up," Carter said. "This was based on an investigation of this business and their hiring practices and the undocumented individuals who were working there." […]
Ooooooo-Kay.   It's a machine gun  manufacturing company.  And it is apparently (allegedly) staffed with a bunch of illegal aliens.  Many of which I'm sure are from south of the border where a lot of violent drug cartels reside.   What could go wrong? 

Of course, the ambulance-chasers leapt into action.  In fact, here's ONE right now:


Oh, and here's WRAL giving us an aerial view of the, um, action via its helicopter.
Interestingly, an awful lot of businesses in the Sanford area that cater to or employ significant numbers from the Hispanic community closed up shop — right about the time of the ICE raid.  It suddenly got really hard to buy a taco or burrito.  (*And here it is Taco Tuesday.  Cruel.  Just cruel.*)
My personal favorite was the business that posted the sign "Closed due to Plumbing Problems."  (I'm betting things got clogged up pretty quick when word spread that ICE was in town.)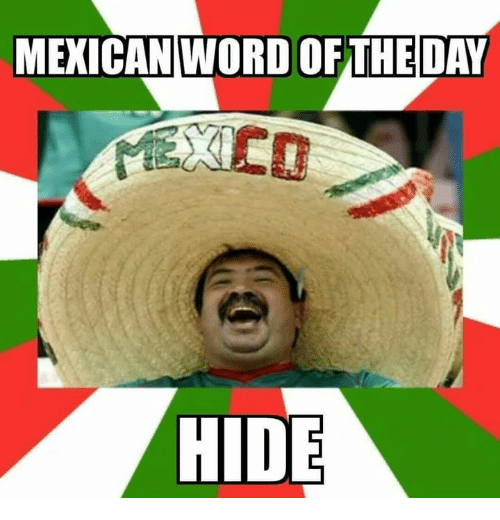 It's pretty interesting timing — given that President Trump is making his big speech tonight.  And the Democrats and a bunch of   weak Koch-and-Chamber-owned Republicans are in the middle of furiously fighting the erection of a border wall or implementation of ANY other kind of security.