From the 'It Needed to Be Said' Department, Jones Street division …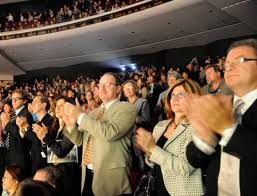 Well, the honorables on Jones Street hashed it out over global warming  this week, and the arrogance and elitism of the granolas — still smarting from their banishment to the back benches –was on full display.
Environmentalists and the Democrats want to use Al Gore's global warming theories as the basis for coastal planning regulations.  Among other things, environmentalistrs are claiming that North Carolina will lose thousands of square miles of beach in 100 years.
GOP legislators — and everyone else with common sense — was asking that actual history, real science, and other easily-observable and documentable data be used as the basis for coastal planning policy.
I had JUST written about how Greensboro legislator John Blust (R) — a once out-spoken conservative crusader in the House — had gotten married and grown quiet.  Well,  during this debate, Blust rose to give Rep. Deborah Ross (D-Wake) — queen of the Prius-driving granola snobs — a piece of his mind:
Rep. Pat McElraft, a Republican real estate agent from Emerald Isle who pushed the bill, said the commission would now "use some real science" to evaluate the coast, saying some scientists have debunked global warming.

"You can believe whatever you want about global warming, but when you go to make planning policies here for our residents and protecting their property values and insurance rates … it's a very serious thing to us on the coast," she said.

Democratic lawmakers such as Raleigh's Deborah Ross countered the argument, saying "ignorance is not bliss, it's dangerous."

"By putting our heads in the sand, literally, for four years," she said. "We are not helping property owners. We are hurting them because we are not giving them information they may need to protect their property."

Republican John Blust of Greensboro appeared indignant about being lectured on climate change, saying "I don't know what the planet is going to be like in 100 years."

"If you all don't agree with our point of view, somehow you're bad, somehow you're ignorant … there is a constant almost intimidation factor going on," he said.