FIVE ROOKIES? More changes in the air for NC congressional delegation?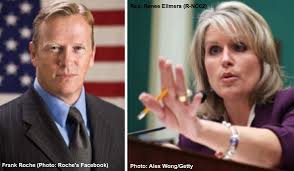 We've got three open seats this year — districts 6,7, and 12.  So, we'll definitely be adding three newcomers to our state's delegation to DC.  But serious election observers suggest close primary races in the 2nd — held by Renee Ellmers — and the 3rd — held by Walter Jones — could give our state an additional TWO newcomers in the nation's capital. 
In the second district, establishment types are poo-pooing and dismissing the upstart primary campaign of Frank Roche.  He's low on cash, and has some PR problems lingering from past political ventures.  But Ellmers has created a lot of PR problems for herself — making this primary vote a choice for voters on who they despise the least.  Credible sources on the ground tell me that Ellmers is in serious trouble in Randolph and Lee counties — two of the more populous and conservative counties in the district.  (Ellmers lost Randolph County in the 2012 GOP primary to an underfunded, unknown challenger who didn't live in the district.)  Here in Moore County, where we're based, we're not seeing much love for her either.  
The sense I get from talking to people is that her stand on illegal immigration is KILLING her with voters.  It's not necessarily an embrace of Roche.  In 2012, Ellmers was bombarding the airwaves with ads.  We're seeing little to none of that this time around.  She's not making any public appearances in this neck of the woods, and there are few, if any, yard signs out touting her reelection.
Ellmers has been busy interfering in the 7th district primary on behalf of David Rouzer, and recently threw her support publicly to Thom Tillis' US Senate campaign.  It's all going to come down to turnout in the 2nd.  Renee is not doing much of anything to inspire people to take to the streets to vote her back to DC.  From what I see and hear, early voting is WAY down from where it was last year.  It is a prime environment for an upset in the 2nd district GOP primary.
If Ellmers does manage to slip past Roche, she may have a problem in the general with Democrat nominee Keith Crisco.  Crisco is from Randolph County — a jurisdiction that has proven itself to be hostile ground to the incumbent.  Randolph Republicans tell me Crisco frequently supports Republican candidates locally, and has been lobbied for years to switch parties.  Sticking with Renee could very well flip this safe Republican seat to the Democrats.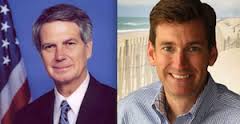 There is also an interesting story developing in the 3rd district — represented by 20 year veteran Republican Walter Jones.  Taylor Griffin moved back to the state from DC to mount a Republican primary challenge.  He's picked up a lot of money from DC-based establishment sources.  Sarah Palin has endorsed him. The Crystal Coast Tea Party has endorsed Griffin.  The feedback we're getting from the 3rd appears to illustrate a very divided Republican primary electorate.
I'm not ready to write Walter's obit yet.  He's been in some tough fights in the past and has managed to escape.  But this one looks really tough and quite perilous for the incumbent.