Feds dumping border-crossing kids in the Carolinas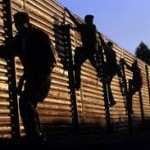 The Department of Homeland Security is pretty much ignoring the flood of illegals pouring across our southern border.  But they have PLENTY of time and manpower to go raid the home of THIS Statesville couple and seize their car — over EPA emission standards. 
There has been quite a bit of eye-rolling over a recent vote by the Brunswick County board of commissioners taking a stand against harboring illegals.  But a federal database is revealing that nearly 1200 of the *little darlings* pouring over the border have already been secretly, quietly dumped within the Tar Heel State.   (South Carolina has only been *blessed* with 350 of those kids.) 
What would you say if you read that 1,191 illegal immigrant children arrested at the southern border this year are being housed in North Carolina and taxpayers don't have a clue about where?

From Catholic Charities to nonprofit agencies that deal with refugees and undocumented children and adults, few will tell. When Watchdog Wire contacted the Diocese of Charlotte Catholic Charities, we were told plans were being formulated, but we should inquire in a month or so.

Even Governor Pat McCrory says "communications have been very, very poor" about who these illegal immigrants are, where they are going and who their sponsors are.

In an interview with Fox and Friends on July 26, the governor brought up the fact that he and other governors spoke to the new HHS Secretary Sylvia Burwell a couple weeks ago, and they were informed that many of the sponsors are undocumented illegal immigrants.

McCrory says the lack of investigation of sponsors means that states which accept these youth will be permanently responsible for them. He said the likelihood that undocumented sponsors will return the children back to immigration officials to be deported is slim.

In a letter addressed to the President and dated July 22, six non-border state governors including McCrory, wrote about the detrimental impact this migration of illegal immigrants will bring to their states.

We are concerned that there will be significant numbers who will end up using the public schools, social services and health systems largely funded by the states. More importantly, we are concerned that the failure to return the unaccompanied children will send a message that will encourage a much larger movement towards our southern border. We fear that this will put a significant number of children at risk of abuse and neglect on their journey to the United States.
Folks, we are ON OUR OWN.