Exposing the expensive 'green jobs' myth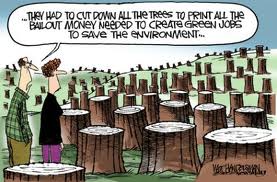 Environmentalist rhetoric about the wonder of 'green' environmentally-friendly jobs is not matching up to reality.  The Washington Post, not exactly a conservative propaganda rag, has pointed out that, just two years into its existence, BarryO's green jobs agenda has become an expensive failure:
A $38.6 billion loan guarantee program that the Obama administration promised would create or save 65,000 jobs has created just a few thousand jobs two years after it began, government records show.

The program — designed to jump-start the nation's clean technology industry by giving energy companies access to low-cost, government-backed loans — has directly created 3,545 new, permanent jobs after giving out almost half the allocated amount, according to Energy Department tallies.        
The controversy around the  collapse of solar panel manufacturer Solyndra, which received $500 million in federal tax dollars,  has put BarryO's loan program under intense scrutiny:
President Obama has made "green jobs" a showcase of his recovery plan, vowing to foster new jobs, new technologies and more competitive American industries. But the loan guarantee program came under scrutiny Wednesday from Republicans and Democrats at a House oversight committee hearing about the collapse of Solyndra, a solar-panel maker whose closure could leave taxpayers on the hook for as much as $527 million.

The GOP lawmakers accused the administration of rushing approval of a guarantee of the firm's project and failing to adequately vet it. "My goodness. We should be reviewing every one of these loan guarantee" projects, said Rep. Marsha Blackburn (R-Tenn.).

Obama's efforts to create green jobs are lagging behind expectations at a time of persistently high unemployment. Many economists say that because alternative-­energy projects are so expensive and slow to ramp up, they are not the most efficient way to stimulate the economy.

"There are good reasons to create green jobs, but they have more to do with green than with jobs," Princeton University economics professor and former Federal Reserve vice chairman Alan Blinder has said.

The loan guarantee program can also be unwieldy. It works like this: Companies negotiate with the Energy Department for a government loan guarantee, which means taxpayers will pay off bank loans if the project fails. Then the Office of Management and Budget must sign off on the guarantees, often changing terms.

The Energy Department says that the green-jobs program is still on track to meet its employment goals. It claims credit for saving 33,000 jobs at Ford Motor Co. — about half of the Detroit automaker's entire hourly and salaried U.S. workforce. The department says the biggest of its loan guarantees, for $5.9 billion, protected the jobs at Ford by enabling the automaker to upgrade plants in five states to build more energy-efficient vehicles. The Energy Department said the loan would "convert" the Ford jobs to "green manufacturing jobs."

Several economists said they doubt the loan program saved 33,000 jobs at Ford.

"I always take these job estimates with a big grain of salt," Josh Lerner, a Harvard Business School professor who has written about failed government efforts to stimulate targeted industries, said in an e-mail. "There tends to be a lot of fuzzy math when it comes to calculating these benefits (regardless of the party taking credit for the program)."
Wow.  FIVE MILLION TAXPAYER DOLLARS PER GREEN JOB — WHAT A BARGAIN.
The leftist Huffington Post pointed out that a government fund designed to help place people in 'green jobs' has also been a miserable failure:
A $500 million Labor Department program designed to train workers for green jobs has come up far short of its goals, with only 10 percent of participants finding work so far, the agency's assistant inspector general has found.

The report said the low rate makes it unlikely the program will meet the goal of placing nearly 80,000 workers in careers in energy efficiency or renewable energy by 2013.

"Grantees have expressed concerns that jobs have not materialized and that job placements have been fewer than expected for this point in the grant program," said the report from Assistant Inspector General Elliott Lewis.

The report comes as the Obama administration has been on the defensive about making a $528 million loan to Solyndra LLC, a now-bankrupt solar panel maker that has become a target for critics of the administration's green energy program.

The $500 million for green jobs training was part of the $787 billion stimulus act passed in 2009. Although the money was awarded in a series of grants in 2009 and 2010, only one-third has actually been spent by grantees. Lewis' report said the rate of expenditures has been decreasing. He suggested the department should consider returning unused money that may not be needed.

"At this point, there is no evidence that grantees will effectively use the funds and deliver targeted employment outcomes by the end of the grant periods," the report said.

Jane Oates, head of the department's Employment and Training Administration, strongly disagreed with the report and said she expects the number of job placements to increase in the next few months. She said the numbers were low in part because of the initial lag time in the start-up phase.

"What we've seen with these green grants is because of limited employment options, people are staying in training longer," Oates said. "I'm still optimistic that we are going to be successful with these grants."

Oates acknowledged that the economy is creating jobs at a slower-than-normal rate. But she said if grantees have not spent all the money by the deadline, the funds would be returned to the U.S. Treasury.

Another problem the report highlighted is that workers who completed training and were placed in green jobs have had trouble retaining their posts. Of the 8,035 workers placed, only 1,336 – or 2 percent of the overall target – have held those jobs for at least six months.

Sen. Chuck Grassley, R-Iowa, who requested the audit, said the report "paints a pretty bleak picture of the program's effectiveness in job creation."

"It's hard to see how leaving $300 million in unused funding for the program in the hands of the Labor Department benefits either the taxpayers or the unemployed," Grassley said.

Grassley said the administration should focus on job creation "in all sectors of the economy."

But Labor officials have insisted that green jobs are part of a future wave of growing employment needs and that it would be a mistake not to invest in training workers for those jobs now, even if the economic recovery has been slow to create new jobs in that area.
Government is good at making messes, but terrible at creating jobs and economic growth in the private sector.  There is not much demand for 'green' products or 'green jobs.'  No amount of tax dollars can change that fact.  If there was significant demand, you'd better believe a lot of capitalists would be all over it.
If DC is serious about pulling us out of this mess, and stimulating the economy, they should back off this 'soak the rich' rhetoric, cut taxes, and roll back a lot of oppressive, unnecessary regulations.