Don't be afraid. He's only lookin' out fo' yo' chil'ren …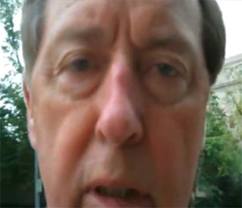 The legacy media is up in arms because Gov. Pat was apparently too busy to receive some petitions from a group of school children. When you find out that the children were planted there by Bobby "Boom Boom" Etheridge and Progress NC (led by former WTVD reporter Gerrick Brenner), Gov. Pat's decision to  pass on taking that meeting makes perfect sense.  After all, THIS VIDEO makes it clear that "Boom Boom" is a security risk.  
(It's amazing that this guy has been rehabbed as a credible spokesman for the chil'ren and their education.  If a Republican had been caught on tape doing what he did on that sidewalk, he or she would STILL be a pariah / laughingstock.) 
Gov. Pat's spokes-babe made it clear that her boss had a meeting.  But the lefties' blood got to boiling when they noticed Gov. Pat tossing a baseball around outside.  Did Pat lie?  Of course not.  He had a meeting with some guys who happened to be wearing ball gloves. 
If the legacy media was really fair and impartial, and followed leaders in both parties around like this, they might have caught Jim Black taking that cash in the restaurant bathroom BEFORE the feds did.