Did Richard Burr confess to a crime?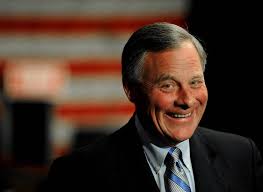 Albeit a minor infraction.  But, still: 
If you have U.S. Sen. Richard Burr's drivers license, he may not need it anymore.

In a Saturday speech to Rowan Republicans, Burr told a brief story of losing his driver's license when going to vote recently. He speculated the driver's license might be in the Ronald Reagan Washington National Airport, located in Arlington, Virginia.
I can just imagine some underage college kid using it to get served in a Georgetown bar.  *Here you go, senator.  A Shock Top in a dirty glass.*  MORE: 
"I said 'my passports are in Washington and I don't have a military ID, but I've got this little ID,'" Burr said, recalling his voting experience. "Clearly, I've lost my driver's license, it's probably sitting in the Reagan Airport. I probably lost it last night. I said 'can I fill some type of provisional ballot out until I figure out what's going on?'"

The News and Observer of Raleigh reported that Burr, a U.S. Senator since 2005, filled out a reasonable impediment form and Burr has also obtained a new driver's license. According to the N.C. Board of Elections, reasonable impediments include: lack of proper documents, family obligations, transportation problems, work schedule, illness or disability. Voters can also list "other" and describe the impediment.

Voters in North Carolina are required to show photo identification for the first time this year. The state's voter ID law takes effect for the first time during North Carolina's March 2016 primaries.

Burr said it's important that poll workers acted correctly when he couldn't provide proper identification.

"It was me and they made me prove it was me," Burr said. "That's a good thing. Now, let's make sure it's not in vain. Help me get elected next Tuesday."

[…]
Now, as far as I understand, it is a crime — a misdemeanor, perhaps — to operate a car while not in possession of a valid license.  Did Tricky Dick drive himself to the polling place while not in possession of a valid driver license?  (Inquring minds WANT TO KNOW.)