Did Boehner lower the boom on Ellmers?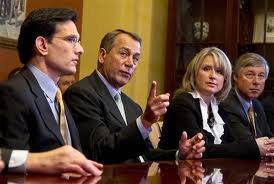 Washington is buzzing about a bit of theater on the US House floor recently, involving a group of Members that included The Second District's Renee Ellmers:
House Republican leaders are pressuring members to refrain from backing a measure that would force a floor vote on a five-year farm bill. 

GOP leaders have refused to allow a vote on bipartisan legislation that cleared the House Agriculture Committee, 35-11, in July. Officials in leadership say the bill lacks the support to pass the House, noting conservative members who have balked at its $900- billion price tag. 

But lawmakers from farm-heavy districts are furious that the bill has stalled, and are calling for action before the November election. They have joined forces to apply pressure to Speaker John Boehner  (R-Ohio) and his lieutenants. 

And now, there has been some pushback.

After supporting a discharge petition aimed at bypassing the GOP's control of the House schedule, Reps. Scott Tipton (R-Colo.) and Renee Ellmers (R-N.C.) on Friday abruptly withdrew their signatures.

Should the petition attract 218 signatures, the farm bill would come to the floor later this year. While that is highly unlikely, it is clear that GOP leaders view the possibility of mounting support for action on the farm measure as a political problem.

Tipton, who is in a competitive reelection race, and Ellmers on Friday walked to the well of the House floor and signed their names on the discharge petition. 

Later on Friday, the freshman members returned to the same spot to strike their names.

[…] In a statement, Ellmers spokesman Thomas Doheny said, "Based on the progress being made to secure a viable farm bill, Congresswoman Ellmers has decided to continue working with the Agriculture Committee and House leadership to expedite the legislative process so that our farmers and businesses across the country are protected and can continue producing quality food and products for our citizens."He noted that Ellmers and other lawmakers sent a letter in July encouraging GOP leaders to bring the farm bill up for a vote.

Boehner spokesman Kevin Smith would not confirm whether the Speaker intervened.

"We don't discuss private conversations with the Speaker and our members," Smith said in a statement to The Hill.


[…] Members of the majority party in the House rarely sign onto discharge petitions, as it is seen as a public signal of defiance of their leaders.

Last year, Appropriations Committee Chairman Hal Rogers (R-Ky.) removed his name from a discharge petition on a China currency bill. At the time, he told The Hill that he signed the discharge petition in haste. 

Asked if leadership pressed him to remove his endorsement, Rogers said that "leadership has taken a very strong position — and I sort of consider myself in a leadership role." 

There are 39 signatories on the farm bill petition, including Senate hopefuls Rep. Joe Donnelly (D-Ind.) and Rep. Tammy Baldwin (D-Wis.).

However, some Democrats won't sign it because the underlying bill calls for cuts to food stamp programs.

Meanwhile, the conservative-leaning Club for Growth this week warned legislators in a key-vote alert not to add their name to the petition. 

Former National Republican Congressional Committee Chairman Tom Cole (Okla.) said his colleagues should not sign onto the petition. 

"You're thumbing your nose at your own leadership. There has to be some order in the House; somebody has to be the traffic cop, and that's the job of the majority party," he said.

[…]
It's refreshing to see the House leadership leaning on Republicans to stick with conservative positions.  It's SAD that our representative here in the Second District had to be pressured to take a conservative position.