DC swamp fawns over 'Deal-maker' Tilli$$$
I can't believe we have to wait three more years to deal with this guy: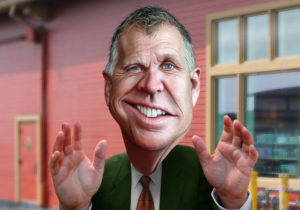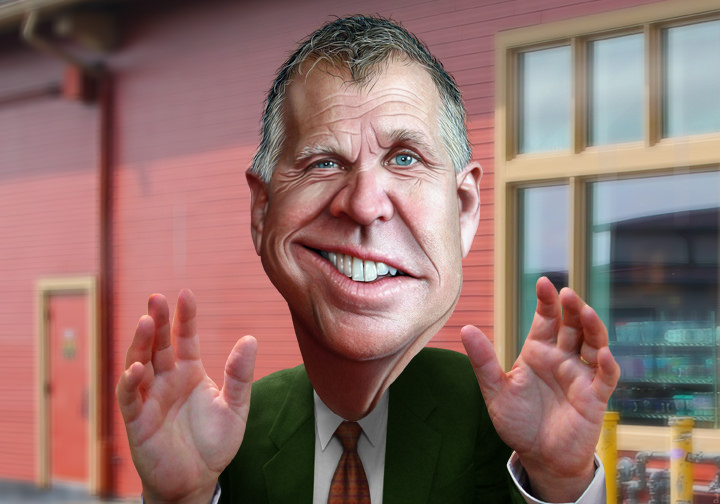 As Donald Trump was pressing his hard-line immigration platform en route to the GOP nomination last year, Republican Sen. Thom Tillis decided to go in a different direction entirely.

Tillis, a reliable Republican on most issues, approached the No. 2 Senate Democrat, Dick Durbin of Illinois, to discuss the fate of hundreds of thousands of "Dreamers." […]
Yeah, Dick Durbin.  The guy who compared our troops to the Nazis, Soviets, and Pol Pot.  *A real reasonable mainstream kind of guy.*
MORE: 
[..] Sooner or later, Tillis thought, they would be at risk — a view that's come to life after Trump announced last month that nearly 700,000 young immigrants would begin losing legal protections early next year unless Capitol Hill intervenes.

The freshman senator from North Carolina is now making his biggest immigration play yet, unveiling a plan to provide permanent relief to the undocumented immigrants who came here as minors.[…] 
Once again, HOW is this any different from what Kay Hagan would have done if she had been given six more years in DC?
MORE: 
[…] If a deal can be done to win over the warring parties and a president who has swung back and forth on the issue, it might start with Tillis, who has methodically carved out a profile as a pro-immigration Republican at a time when the GOP has swerved sharply to the right.

"Not all of the usual suspects have come out on the right opposing the bill because they've actually taken the time to read it," Tillis recently told POLITICO in an interview in his office. And "when you sit down and you talk with left-of-center, reasonable Democrats … then we have people that are having a difficult time opposing it."

With two other Senate Republicans, Tillis released a bill last month that would create a pathway to citizenship for Dreamers, albeit with more stringent requirements and tougher restrictions than the Dream Act pushed by Durbin and other Democrats.

Liberals bashed it as overly harsh. Immigration hard-liners dismissed it as amnesty, with just a slightly conservative bent. It's yet to pick up more co-sponsors beyond the original trio: Tillis and Sens. James Lankford of Oklahoma and Orrin Hatch of Utah.[…] 
Now, here comes of some of the love from the swamp:
Even in Trump's Washington, Tillis has emerged as a classic pro-business Republican when it comes to immigration: He believes more workers from abroad help the economy and that there are jobs Americans simply won't do. He is open to a pathway to citizenship for the broader population of 11 million undocumented immigrants, but under conditions far more arduous than what he has outlined for Dreamers.

Most of Tillis' early immigration battles in the Senate centered on protecting temporary visas for seafood workers critical to North Carolina's economy. He partnered with Democrats — first with former Sen. Barbara Mikulski of Maryland (who good-naturedly nicknamed Tillis "Catfish") and, more recently, Sen. Mark Warner of Virginia — to bolster the H-2B visa program, which cover immigrants who come to the United States to work as landscapers, ski instructors and housekeepers.

And while it's mostly been Democrats who've held up Trump nominees, Tillis blocked Lee Francis Cissna from winning confirmation as director of U.S. Citizenship and Immigration Services until the administration sped up a review of the H-2B visa program. Cissna was eventually confirmed last week.

"He's been a new player," Ali Noorani, executive director of the pro-reform National Immigration Forum, said of Tillis. "Not just a new player, but on an issue where we've been frankly starving for new talent."
A NOW a word from the sensible caucus:
But Tillis' efforts at recruiting more foreign workers into the United States and now drafting Dreamer-focused legislation has earned him few fans from the restrictionist immigration groups who are gaining new influence in Washington.

"Tillis has made himself the ninth member of the Gang of Eight," said Mark Krikorian, executive director of the Center for Immigration Studies, referring to senators who negotiated a comprehensive immigration bill in 2013. "He is trying to make himself a player, but it's really just putting a Republican gloss on a Democratic policy."

Roy Beck, president of Numbers USA, added: "His attitude seems to be, immigration does not have any effect on workers."

"I think he's playing with fire with his kind of cavalier attitude," Beck said.

[…]
And here comes the spin. (Duck!)
It was during his tenure as speaker of the North Carolina House of Representatives that Tillis said he realized "we had to get right on immigration reform," particularly as he met with employers around the state who told him they were struggling to hire even as the unemployment rate held steady.

"This myth that, you know, American workers were flocking to certain jobs are just that: a myth," contends Tillis.

In North Carolina, Tillis also helped implement a mandatory E-Verify system — a workplace program that checks whether an employee can legally work in the United States. He now notes that mandatory E-Verify, a top policy priority of conservatives, has left some businesses in the state unable to fill vacant jobs.
He helped weaken E-Verify.  Weaken it.  Very important distinction there. MORE: 
[…] He also tried to shepherd through a bill that would give driver's licenses to undocumented immigrants if they went through background checks, were fingerprinted, paid a hefty annual fee and showed proof of prepaid car insurance. That legislation prompted his opponents to deride Tillis as an "amnesty speaker."

"You just got to talk to these people like adults and expect that 10 or 15 percent of them are unreasonable," Tillis said. "I'm not going to waste any time trying to win them over."[…]
So sayeth "Mr. 48 percent." (See you at the primary, big fella.)