Civitas Poll: Unaffiliateds go BIG for Hagan, slightly for NCGA Democrats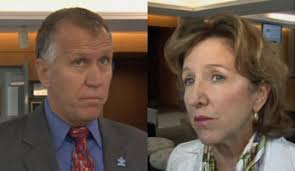 Roughly 27 percent of the electorate in North Carolina is not affilated with either of the three major parties. The Civitas Institute in Raleigh decided to take the political temperature of this group that could prove key in determining who represents The Tar Heel State in the US Senate over the next six years.
Civitas polled 400 registered unaffiliated voters from August 23-25. (Tillis and Hagan debated on television the evening of September 3.)  The margin of error is +/- 4.9 percent.  Here are some of the results that ought to have the NCGOP establishment sitting up and taking notice:
Sixty-eight percent of respondents said things in North Carolina were headed down the wrong track
Sixty-nine percent thought the country is on the wrong track
Improving schools, teacher pay raises, and taxes topped the list of what respondents thought was going right in North Carolina
On a generic ballot for NCGA, a Democrat outpaces a Republican by 33-28 with unaffiliated voters
Thom Tillis has a favorable / unfavorable rating of 17-43 with unaffiliated voters (Hagan is at 43-43)
Obama's favorable /unfavorable with the UNA crowd is 48-47 (Pat McCrory is at 36-41)
The US Senate race — among unaffiliated voters in the survey — stands like this: Hagan 39, Tillis 27, Haugh 8. 
31 percent of pro-Hagan respondents said they are "definite" Hagan voters, while only 19 percent of pro-Tillis respondents said they are "definitely" Tillis voters.
If you remove Haugh from the equation, Hagan leads Tillis 41-33.  Thirty-four percent of pro-Hagan respondents said they were "definitely" with Hagan, while 25 percent of pro-Tillis respondents said they were "definitely" with Tillis.
Sixty percent of all respondents said they were unaffiliated because of either (a) disliking both major parties, or (b) preferring issue positions over party labels.
Fifty-two percent of respondents said they felt teacher unions were all about enriching themselves and pushing a personal agenda, and not so much about seeing the best outcome for the kids.