Burr for Whip: Lots for him, little for us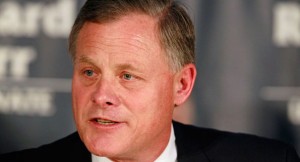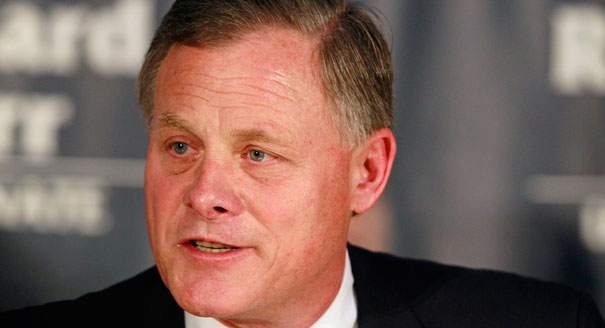 U.S. Senator Richard Burr (R-NC)  has announced his plan to seek the #2 position in the Senate Republican caucus, once it is vacated by its current occupant, retiring U.S. Senator John Kyl of Arizona:
North Carolina Sen. Richard Burr plans to make it official: He'll seek the No. 2 spot in Senate GOP leadership, challenging Texas Sen. John Cornyn for the influential post when it opens up in the next Congress.

"I intend to run for Whip, but that race is a long way off," Burr said in a statement released by his office Monday evening. "Until then, I will be concentrating on my current responsibilities as Chief Deputy Whip as well as my legislative agenda. There are a lot of issues facing our nation and the Senate, and that is where I am focusing my efforts."

The whip spot — which will be vacated by next year's retirement of Arizona Sen. Jon Kyl — serves as the chief vote-counter for Senate Republicans and is seen as the likely successor to Senate Minority Leader Mitch McConnell atop the GOP pecking order. That makes the selection enormously critical for Senate Republicans, who will hold a secret ballot election behind closed doors to choose the next leadership team after the 2012 elections.

Burr and Cornyn – who chairs the National Republican Senatorial Committee – could be joined in the race by others, potentially Sen. John Thune (R-S.D.) who currently serves in the No. 4 spot, as chairman of the Republican Policy Committee.

Burr, the North Carolina Republican, has run for leadership before. In the immediate aftermath of Sen. Trent Lott's abrupt decision to retire from the Senate in 2007, Burr put his hat in the ring for the No. 3 position, chairman of the Senate Republican Conference, which spearheads the messaging operation. But he was defeated by Sen. Lamar Alexander (R-Tenn.) for the position, and Burr was later selected by Kyl to serve as his chief deputy in the whip operation.
Okay.  Our senior U.S. senator is quoted as saying that he will be "concentrating on my current responsibilities as Chief Deputy Whip as well as my legislative agenda."  I don't see or hear ANYTHING about — oh — the interest of North Carolina and its people.
Burr's ambitions have got me worried.  I think he has visions of being a political player on the national scale.  Representing North Carolina appears to be a distant second option — almost an afterthought.
Burr was an early supporter of John McCain's presidential bid.  He and Lindsey Graham (R-SC) spent a lot of time brown-nosing McCain and trumpeting the man's quixotic, poorly run 2008 campaign against BarryO.
If he gets elected Whip, Burr will be committed to supporting the agenda of the Republican leader.  That agenda is not always conservative, and is not always in the best interests of North Carolina.
The job will get him a lot of face time on Fox News and Meet The Press.  It will elevate his political profile and make him more famous.  It might get people chattering about him as a potential VP or presidential candidate down the road.
Senator, how is this job you are pursuing good for your constituents back home?