Amid congressional spending orgy, Thilli$$$ gets his cheap labor
Pelosi and Schumer are doing back-flips celebrating the massive spending that just made its way through the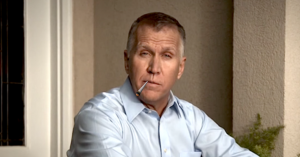 "Republican" Congress. The Chamber and the GOPe are dancing a jig because, once again, the man from Florida Cornelius Huntersville has come through for them BIG:
Congress appears poised to allow more temporary, seasonal foreign workers into the country this summer, even as lawmakers skirted around larger immigration issues such as border wall funding and undocumented child immigrants in its $1.3-trillion spending package.

A provision pushed by North Carolina Sen. Thom Tillis to raise a cap on visas for those workers made its way into the must-pass spending package.

Tillis, a first-term Republican, is a longtime proponent of the H-2B visas program that allows businesses to hire foreign workers for seasonal work if there are not American workers who are willing, qualified, and able to perform temporary non-agricultural labor. His stance has often drawn the ire of immigration critics on the right — and this time is no different.

"It's important to me because it's important to thousands of American businesses," Tillis said Wednesday. […] 
Let's finish that sentence properly for him: "[…] American businesses (that hire lobbyists who shower me in cash)."
MORE:
[…] One paragraph in the the 2,232-page, $1.3 trillion federal spending bill released Wednesday night allows the Department of Homeland Security to raise the 66,000 cap on H-2B visas for the current fiscal year, which ends Sept. 30.

The bill, which is needed to keep the government from another shutdown, passed the House on Thursday and is expected to clear the Senate on Friday, despite opposition from many conservatives. North Carolina Republican Reps. George Holding of Raleigh, David Rouzer of Johnston County, Mark Walker of Greensboro, Mark Meadows of Asheville and Ted Budd of Davie County voted no.It provides $1.6 billion for border security, far less than the $25 billion President Donald Trump wants for his promised southern border wall, and does not address the DACA population at all.

"It is disappointing to see congressional leadership and the business lobby once again use a must-pass spending bill to expand their access to cheap foreign labor. Opening the door for a significant increase in guest workers is not only unwarranted, but harmful to the interests of American workers," said RJ Hauman, government relations director at the Federation for American Immigration Reform.

Many seasonal small businesses in North Carolina and the country rely on workers from the program to keep their doors open and support American workers, a Tillis spokesman said. As of March 2017, North Carolina ranked third behind Texas and Colorado with 4,324 H-2B visa workers.[…]
So, we're already a national leader in terms of taking these people in.  And Thom wants us to TAKE IN MORE ???