What WILL the GOP stand and fight FOR?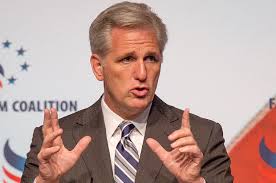 One again, we're hearing talk from our grand majority in Washington about surrendering before the battle even starts:
A top House leader predicted Monday that Washington will avoid stumbling into a government shutdown next week over a tea party-backed drive to take away Planned Parenthood's funding.

Majority Leader Kevin McCarthy added, however, that Congress may need additional time to work through a massive, $1.1 trillion catchall spending bill that tops the agenda as lawmakers return to Capitol Hill for a two- or three-week sprint to finish this year's session.

McCarthy, R-Calif., told reporters that "I do not hear people shutting the government down over it right now," referring to demands by some conservatives to attach language to "defund" Planned Parenthood to the must-do spending bill. Such a move would guarantee gridlock.
*Beautiful.*  So *our guys and gals* don't have the cojones to say NO to — and cut off — the dead baby parts peddlers at Planned Parenthood?  MORE:
Other business includes highway spending, taxes and a rewrite of the Bush-era No Child Left Behind education law.

The omnibus measure will test the standing of Republican leaders like new House Speaker Paul Ryan with the GOP's tea party wing and its anti-establishment presidential candidates.

There are less than two weeks until a deadline to pass the massive spending bill, which would fund every Cabinet agency and avoid a holiday season government shutdown. If the process doesn't go smoothly, a last-minute temporary funding measure would be required to keep the government open when the current stopgap measure expires Dec. 11.

"I'm hopeful to get it all done and voted on by the 11th. If not, we're here until the 18th and it won't make any difference. We'll get it done," McCarthy said.

The so-called omnibus spending bill represents a challenge for Ryan, R-Wis., who took over the top House job after former Speaker John Boehner, R-Ohio, was forced out this fall over his penchant for looking to Democrats to help pass major legislation like year-end spending bills, among other reasons.

Ryan is sure to have to do the same this time around, despite pressure from outside groups like the Heritage Foundation to use the omnibus bill to force battles over federal money that reaches Planned Parenthood or heightened worries about Syrian refugees after the Paris attacks.
Wow. SSDS. (Same s**t, different speaker.)  Now, here comes the really perplexing stuff: 
But the renegades who ran Boehner out aren't in any mood to rough up Ryan just yet.

"I think it's unfair to hold Paul Ryan accountable for this particular omnibus. The Dec. 11 crisis that our leadership created is one of the reasons we got rid of our leadership," said Rep. Thomas Massie, R-Ky., a tea party favorite. "It's not of his making, and I personally would not write him off if something doesn't happen on this omnibus, whether it's Planned Parenthood … or something else."
WHO is actually going to slug it out for US ????   WHO ????   More: 
Sen. Ted Cruz, R-Texas, who is rising in the national presidential polls, is another matter. If past is prologue, he's sure to use debate on the omnibus measure to burnish his reputation for attacking Capitol Hill GOP leaders and build opposition to the catchall spending compromise among Republican voters.

The massive spending bill is going to require Democratic support to pass, and GOP leaders have been frustrated that many Republicans routinely cast an easy vote to oppose such measures even when they really want them to advance. Less than one-third of House Republicans voted for the budget pact last month that set the parameters for the omnibus. The GOP's top vote counter urged his whip team to turn around the phenomenon in which so many Republicans "vote no and hope yes."

"The story of a bill that passed with 150 Republican votes is much more positive and assertive than the story of a bill that passes with 79 Republican votes," said GOP Whip Steve Scalise, R-La. […] 
How about the story of shrinking government, cutting taxes, cutting spending, cutting regulations and giving a whole lot of freedom back to the people?  Have we got anybody up there with the guts to pitch THAT STORY?  Anybody at all who's not scared of a little bad publicity from the drive-bys?
House-Senate negotiations on a long-term measure funding highway and transit programs hoped the seal an agreement Monday. Talks were helped in large part by a new billion "offset" to help pay for the measure that involves a money shuffle from the Federal Reserve to the Treasury. Budget watchdogs say tapping into Federal Reserve surpluses is nothing more than a $59 billion gimmick and that the highway bill will actually add that figure to the government's almost $19 trillion debt.[…] 
Apparently not. (*SIGH*)