The sky is falling! (in 100 years)
THAT is the snake oil Rob n' Chris's krazy krew  is pitching: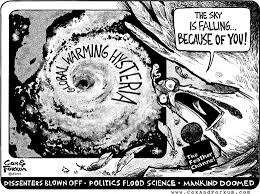 North Carolina is wilting. On 60 days — two-thirds of the summer — Raleigh-Durham International Airport recorded above-average temperatures, according to Weather Underground.  In the Triangle, 17 of those days have topped 95-plus. This summer is still cooler than  2010, when the airport set a record for the most days of 90 or above, and 2011, when records fell for the most consecutive days of 100 or higher temperatures.

These trends could be a dress rehearsal for the end of the century, when a 90-degree day might seem, well, brisk. So how should you dress for the Year 2100? Or more seriously, how should local governments prepare to meet the challenges of climate change?
So, we're prognosticating about what might happen in 84 years?  These weather clowns can't get tomorrow's forecast right. (Just think about the hype we've heard during the buildup to every storm — including this weekend's Hermine.  Scary pre-game report, but hardly living up to the hype.)   How can we even seriously talk about the end of the century?  MORE: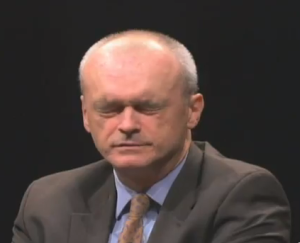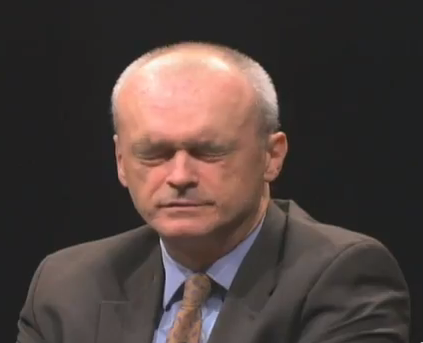 In North Carolina, the Department of Health and Human Services released a Climate and Health Profile document that details several dystopian outcomes of climate change, some of them already occurring:

Water quantity (Transylvania County, which usually receives 100 inches of rain a year, is in a drought) or too much rain, which can flood swine waste lagoons and damage the environment)
Water quality (harmful algae blooms that can make swimmers sick)
Mosquito-born diseases, such as Zika (36 travel-related cases have been reported in N.C. this summer)
Heat-related illnesses

Mental health issues

Increased ultra-violet radiation, which can lead to skin cancer
Global warming.  So THAT explains Rob and Chris.
THIS is starting to sound like The Onion.  But, no, it is our federal and state government at work —  trumpeted by a WRAL subsidiary.   Here's even more:
Poor air quality, particularly in regards to ozone, which can trigger or worsen heart and lung problemsAt NOAA's U.S. Climate Resilience Toolkit, you can plug in a city/county and state and then view projected temperature and rain trends through 2100. The graphs show historical data since 1950, plus scenarios if we as a planet immediately stabilize the amount of greenhouse gas emissions (warmer but livable in short sleeves), or if we continue the path we're on (ideal if you're a saguaro cactus).

In the latter scheme, Rocky Mount, which historically has about 10 days each year above 95 degrees, would have to endure 100 such days, essentially the entire summer. The sea breeze would blow the hot air around in Wilmington, where 97 days of the year the sand would roast your feet. Even Asheville won't be the cool mountain getaway it is now. Ninety-five degree days are rare there, but by century's end, the forecast is for 35 days of extreme heat each year.
This is the kind of nonsense that gives us carbon taxes, styrofoam and plastic bag bans, auto emissions tests, and all kinds of wacky, anti-business, anti-capitalist, anti-freedom planning and zoning rules.
Need another laugh?  Here's Chris bad-mouthing people who dare to question the inanity of formulating policy based on what MIGHT happen 100 years from now.