The Skvarla Method: Defining Yourself Before the Dems and Media do it for you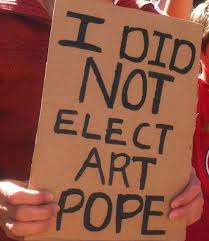 The MSM and their Democrat allies are getting really worked up over Governor-elect Pat's appointees — and we're still A WEEK or so away from the inauguration.  It sure would have been nice to see this kind of examination of Jim Hunt, Mike Easley, or Bev's appointees.  (We typically hear the juicy stuff AFTER said Dem has left office or AFTER the DOJ has handed down the indictments.)
It's become pretty clear that the massive left-wing conspiracy is focusing MOST of its energy on DENR secretary-designate John Skvarla and budget director-designate Art Pope.   Craig Jarvis tried to perpetrate a smear on Skvarla a few days ago in the pages of the N&O.  We got all kinds of details about Skvarla's political activities and business dealings.  (Par for the course when you are a Republican appointee.)  But that piece had an unintended, unexpected effect from the N&O's perspective.  Judging from the comments following the story on the web site, and the comments I've heard on the holiday cocktail party scene, Jarvis's story made it clear that this Skvarla guy is likely the most qualified person ever to be appointed to the job.
I'd be willing to be bet that we've seen MORE stories on Pat McCrory's appointees to DENR and the budget office than we saw on both Mike Easley and Bev Perdue's DENR chiefs and budget directors.  (That's a roughly a few weeks as compared to TWELVE YEARS for the Dems.)   Check Google.  Can anybody name those Democrat appointees? 
We all expected some aneurysms on the port side of the S.S. North Carolina when Gov.-elect Pat tapped Art Pope as state budget director.  Never mind that the retail magnate will be working for FREE.  Never mind that he is stepping down from all of his business, political, and community service posts.  People who know Mr. Pope know that he is a whiz with budgetary matters, and that post in the administration is tailor-made for him.   Leftists inside and outside of the MSM are working overtime to paint Pope as some kind of maniacal madman (Like George Soros?) bent on using his money to take over the state, the nation, and the world.  (See examples HERE, HERE, HERE and HERE.)
Some on our side may laugh this stuff off.  But stop and think about it.  Look at the number Big Barry at 1600 Penn has done on successful people since 2008.  Look at how Barry's campaign destroyed Mitt Romney — mostly on the basis of his business background — during the 2012 campaign.   Mitt was NOT as conservative as I would have liked him to be, but he struck me as a guy of high moral character.  He didn't deserve the slander blitzkrieg he was subjected to.  Barry couldn't walk SIX FEET in Mitt Romney's shoes.
(I was a player in a political campaign the media and the LEFT insisted was an Art Pope-orchestrated conspiracy.  I think I talked with Mr. Pope ONE TIME during that six month period.   I know he donated some money and helped raise a little.  But he was NEVER part of any strategy sessions.  Mr. Pope has a lot of money, and money DOES buy you a seat at a lot of tables.  I think people have appreciated his financial contributions, but it is a wee-bit farfetched to suggest that he is a maniacal mastermind with his hands in all kinds of conspiracies to run the state and the world.)
Team Pat needs to learn from Mitt Romney's experience, and the apparent success they've had with John Skvarla, in spinning Art Pope. Leftists have done a masterful job at demonizing wealthy, successful people.  Let's see some details about Pope that show off his qualifications for the budget job — and expose a lot of his human side.  Give the public something that does not fit the DR. EVIL image so carefully crafted by Chris Fitzsimon and the boys.