(The Plot Thickens?) The Speaker & That Massachusetts Law Firm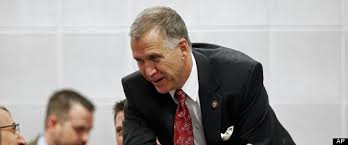 Chuck Suter — who, with his video camera, strikes fear in politicians across The Carolinas –has released a new video alleging that state House speaker and US Senate candidate Thom Tillis has been using his position in the General Assembly to directly benefit the clients of his wife's family's Massachusetts-based law firm.
This site confirmed that Tillis' US Senate campaign received more than $10,000 from employees of Campbell, Campbell, Edwards & Conroy.  Over the summer, state House leaders (of which Tillis is the most senior) led the effort to kill legislation requiring an in-state brick and mortar showroom to sell cars in North Carolina.  The legislation was strongly opposed by Tesla Motor Company, which has been represented by Campbell, Campbell, Edwards & Conroy — Susan Tillis' family's law firm.
Suter's video takes it one step further.  He says the Campbell firm has represented Time Warner Cable.  If you'll remember, state Rep. Robert Brawley (R-Iredell) had a very public spat with Tillis over legislation that would have helped a small Iredell-based internet service provider.  Brawley alleged that Tillis killed the legislation at the behest of Time Warner.
In his video, Suter also alleges that Tillis' father-in-laws' firm represents Parsons-Brinckerhoff — the consulting firm involved in the effort to bring HOT lanes and tolling to I-77 in Mecklenburg County.  The speaker has made some favorable comments regarding tolling and HOT lanes, drawing some ire from Mecklenburg residents.
Tillis strongly opposed efforts at the state GOP convention to add an anti-tolling plank to the state party platform.  Shortly after his unsuccessful efforts at the convention, Tillis and his team returned to Raleigh and pushed through legislation clearing the path for HOT lanes and tolling.
We've previously reported on the interesting timing of campaign contributions from beer wholesaler and movie interests and legislative action in Raleigh.
This all looks troubling.  We're certainly hoping there is a good, honest, understandable explanation behind it all.  We welcome any serious attempts at explanation, clarification, or rebuttal from people or organizations mentioned in this post in the comments section below this post.  (Although — to make it to the public eye —  they must be made without the use of profanity, obscenity, name-calling, slander and / or other personal attacks. I know.  It's  a shame that we have to mention that.)