The McCrory Duke stock non-story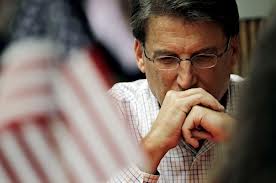 Chests are being thumped defiantly at Low-T headquarters on Raleigh's Jones Street.  The McClatchy drive-bys are convinced that they have found Gov. Pat McCrory's Watergate:
Gov. Pat McCrory failed to disclose his ownership of Duke Energy stock this year in two state ethics filings and sold the stock after a torrent of bad publicity about the company's coal-ash spill, the governor's office acknowledged Wednesday.

News Flash: It is NOT a crime to sell stock in a company AFTER bad news about said company goes public. It's actually stupid — in  most situations like that — NOT to sell. (I'd be willing to bet that McCrory LOST money in the sale.) MORE::
 McCrory filed a new ethics and economic disclosure that now makes clear he owned at least $10,000 of Duke Energy stock on the last day of 2013, reversing disclosure filings he made in April and May. Public officials who "knowingly" do not disclose correct information about their financial interests are subject to possible criminal penalties.

A lawyer for McCrory said through a spokesman the incorrect filings were a mistake based on the lawyer's misunderstanding of the time frame covered by the earlier disclosures. McCrory signed the forms.[…]

The governor's main ethics disclosure statement, covering 2013, was required to be filed by April 15 this year – and McCrory turned it in that day. In the filing, McCrory made no mention of holding any Duke Energy stock as of Dec. 31, 2013. A supplemental filing in May also did not disclose that McCrory held Duke stock at the end of the year.

Ellis issued a statement Wednesday that he said could be attributed to Bob Stephens, McCrory's general counsel.

"When the governor submitted his (Statement of Economic Interest) form in April 2014, he had divested himself of all utility stock," the statement says. "The form was completed based on my understanding that the information to the question should be current as of April 15. Following discussion with the State Ethics Commission, it was clarified to me that disclosure should be based upon ownership as of December 31 and we took steps to correct it immediately."[…]
Was it a surprise that McCrory had ties to Duke Power?  Of course not.  He worked there for 29 years.  It's not all that unusual for employees of major corporations to have stock in their employer.  
Democrats and the drive-bys have tried to paint McCrory as a major player at Duke who used his mayoral and gubernatorial powers to benefit his now-former employer.  I had the chance to talk with a now-retired former senior Duke Power executive a couple of years ago at a social gathering.  He happened to mention that — while he was working at Duke — he had NO idea that the then-Charlotte mayor was working at Duke until he heard about it in the media coverage running-up to the 2–8 gubernatorial race.
Yep. Ol' Pat was *quite the player*, indeed. 
From what I know about the folks surrounding our governor, it's pretty safe to chalk this up to a staff screw-up.  The forms got corrected. Case closed. Move on.
There are a lot of things to hit Ol' Pat on.  This ain't one of them.
If you really want to dig into a bona fide scandal, why not dig into what happened to the state board of elections investigation of state senator Fletcher Hartsell's campaign finances?