Tax Day in Southern Pines: Tea Party ranks swelling, Jamie Boles spelling, Richard Speer excelling, Renee Ellmers #FAILing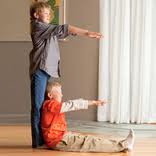 It was a busy afternoon in Moore County for conservative and Republican activists.  Moore Tea Citizens had a nice turnout for its fourth annual Tax Day Rally in front of the town's post office.  The Moore County GOP also opened the doors for its campaign headquarters.   A plethora of GOP celebrities / candidates were on hand — including state House Speaker Thom Tillis.
A mole reported back to me that State Rep. Jamie Boles (R-Moore) provided one of the more — ahem —  interesting presentations of the afternoon, which reportedly  featured the legislator spelling out various letters of the alphabet with his body.  (Give me a T.  Give me an A.   Give me an X … ) 
Richard Speer continues to draw enthusiastic, positive responses from county activists.  He spoke at the Tea Party rally, and attended the headquarters opening.  Many residents left both events wearing "Speer For Congress" stickers and carrying Speer yard signs.   (Congresswoman Ellmers's husband and an aide attended both events in her place.) 
Election Day is May 8.