Spanish toll co. set to run North Meck's I-77 goes BANKRUPT running Indiana road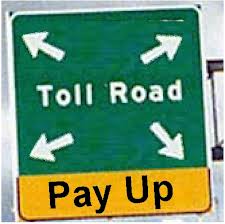 GOP leaders from Thom Tillis to Skip Stam to Pat McCrory have bent over backwards to tell us what a great idea privately-managed toll roads are. Yet, events in Indiana last week should serve as a dire warning for North Carolinians: 
The debt-stricken operator of the Indiana Toll Road filed for bankruptcy protection Sunday with a plan to restructure some $6 billion in debt, the latest example of a private investment in public infrastructure that failed to meet expectations.

ITR Concession Co. LLC filed for Chapter 11 protection in U.S. Bankruptcy Court in Chicago with a prepackaged plan backed by a majority of its creditors that proposes selling its assets or reorganizing its business.

Indiana Gov. Mike Pence said in a statement Monday that "Hoosiers can expect business as usual" on the 157-mile road, a main artery through the state. The bankruptcy isn't expected to affect the operator's 283 employees, the company said.

ITR Concession, owned by units of Spanish infrastructure company Ferrovial  and Australian investment bank Macquarie Group Ltd. , said it would follow a two-track restructuring process. In a declaration filed with the bankruptcy court, Chief Executive Fernando Redondo said the company intends to pursue a sale of the toll road's assets at a bankruptcy auction, with the proceeds earmarked for creditors. The sale process has a deadline of Aug. 1, 2015.
For those of you keeping score at home, Ferrovial is the parent company of Cintra — which is close to finalizing a deal with North Carolina state government to manage toll lanes on North Mecklenburg County's I-77.
[…]Alternatively, senior creditors will swap their stakes for a 95.75% stake in a reorganized ITR Concession Co. Holdings LLC. Under that plan, the existing lenders have agreed to lend $2.75 billion to the new company to aid the reorganization.

The 58-year-old road, which runs across Indiana between the Ohio Turnpike and Chicago Skyway, has struggled for years with a heavy debt load and lower-than-expected traffic.

In 2006, a Macquarie subsidiary and Ferrovial affiliate Cintra Infraestructuras paid $3.8 billion to Indiana for the right to operate the road for 75 years. The winning bid brought in twice the value that state-paid consultants had calculated for the lease, state records show.

ITR has since pumped $458 million into improving the toll road, Mr. Redondo said in a court filing, but a drop in interstate commerce following the global recession dampened revenue on the trucking-heavy route.

Last year, ITR generated $158 million in earnings before interest, tax, depreciation and amortization but paid approximately $193 million to service its debt, filings show. In June, the company missed a $102 million interest payment, which helped accelerate restructuring talks with hedge funds that bought the road's bank debt.

ITR's secured debts include $2.15 billion owed on terminated "swap" transactions set up to hedge against interest rate fluctuations, as well as $3.85 billion in first-lien syndicated bank debt. Its restructuring plan has the support of more than 87% of debtholders in amount and 89% in number, court papers show.

A number of other toll roads backed by private financing have struggled in recent years. American Roads LLC, which operates toll roads in Alabama and Michigan, restructured its debt through Chapter 11 last year.

In June, the Portuguese operator of the Northwest Parkway in Denver tapped restructuring advisers in the face of a high debt load. In 2011, San Diego's South Bay Expressway, built by a company owned by a Macquarie-managed investment fund, exited bankruptcy protection under a plan that wiped hundreds of millions of dollars of debt from its balance sheet.

[…]
Again — THIS is THE SAME crowd that our state's leaders are trying to sign over management of stretches of I-77 to.  The brakes need to be applied to this deal. In light of recent history in other states, this "experiment" with taxpayer dollars and assets needs to be seriously rethought.