Reflections on the concept of "party loyalty"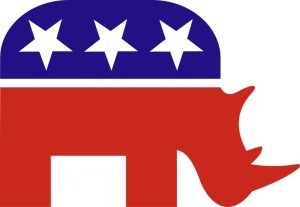 I was listening to El Rushbo the other day, and even he was struggling with something that a lot of us have been — the concept of sucking it up and voting for a candidate who is not very conservative, for the sake of a "majority."  People were calling in to Rush talking about "teaching a lesson" to The Establishment.  Rush had an interesting response: The establishment is not 'teachable.'  If you stick it to them in an attempt to teach a lesson, they don't learn. They get indignant, and they lash back at you.
(Ask John Rhodes and Robert Brawley about that.)
Rush pointed out that — to fix the party — you will have to clear out these types with an 'R' next to their names who don't mind a little more spending, a little more taxes, a little more regulation.  It may mean six more years of Kay Hagan.  It MAY mean more of Harry Reid in charge.  But it appears THAT is the only way to get back to an honest opposition to statism.  
Here, in North Carolina, we're being hit with all kinds of calls for party loyalty.  We're told we need to suck it up and vote for Thom Tillis — an ideologically-flexible kind of guy who has shown no interest in actual conservative voters.  
We've got a situation where conservatives' choice did not win the primary.  Let's look at what happens when the GOP establishment's candidate does not win the primary.
In 1964, Nelson Rockefeller fans pouted over their man's loss to Barry Goldwater in the presidential primary so they ran out and formed "Republicans for LBJ."  In 1980,  lefty Republicans showed their "support" for presidential nominee Ronald Reagan by running liberal Republican congressman John Anderson as an "independent" in the general election.
In Virginia, in 1994, Republicans had a great chance to knock off incumbent Democrat US senator — and LBJ son in law — Chuck Robb.  Oliver North won the GOP primary.  US senator John Warner — a capo di tutti in the GOP establishment — showed his displeasure by backing an "independent" run by moderate Republican Marshall Coleman.  Robb got six more years in DC.  In the 2013 governor's race in Virginia, GOP nominee and Tea Party favorite Ken Cuccinelli was left high and dry by the party apparatus.  Eric Cantor operatives were even exposed working for Democrat nominee — and eventual winner — Terry McAuliffe.  Apparently, it's better to let the Democrat win than to have "our party" represented by one of those Tea Party types. 
Let's not forget the shenanigans of the GOP establishment in the recently completed Mississippi GOP primary for US Senate. 
Let's look at the 2012 elections in North Carolina.  We got establishment doyenne Pat McCrory forced on us in the governor's race.  However, a stable of good conservatives got nominated by the GOP for the down ballot council of state seats.
McCrory defeated Democrat Walter Dalton 55 percent to 43 percent.  McCrory got 2,447,988 votes to Dalton's 1,931,750.
Let's step down one level to the Lt.Governor's race.  Republican Dan Forest defeated Democrat Linda Coleman 50.1 percent to 49.9 percent.  Forest got 2,187,728 votes to 2,180,870 for Coleman. Roughly 300,000 voters picked the Republican McCrory, then went over to Democrat Coleman in the lieutenant governor's race.
In the secretary of state's race, Ed Goodwin racked up 2,003,026 votes in his loss to Elane Marshall. who got   2,331,173 votes.  Goodwin got roughly 400,000 fewer votes than McCrory, but Marshall outperformed Dalton by roughly the same amount.  
This pattern survives all the way down the ballot. A LOT of people voted for Pat McCrory, and then switched over to vote Democrat down-ballot.
I talked with various GOP council of state candidates and their aides.  They told me they got next to no help from the state party — logistical, financial, or otherwise –from the state party or the McCrory campaign. McCrory led Dalton comfortably in the money and vote chase for nearly the entire campaign. Yet, the ticket-header and his fellow-travelers in the state party showed little to no interest in providing some coattails for more conservative down-ballot candidates.
We conservatives are repeatedly lectured about putting away our principles, sucking it up, and voting for the 'R'.  We've been pretty good about doing that when our guy or gal doesn't survive the primary.  Ask some of these party unity cheerleaders for a recent example of when they've done the same.