Redistricting reboot: From bad to worse for NC Democrats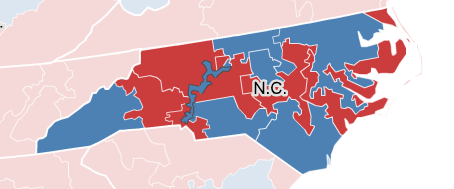 The Left threw a major tantrum over the first congressional redistricting map released by the conservative majority in the North Carolina General Assembly.  Leftists claimed the map was unconstitutional, unfair to minorities, and WAY TOO GENEROUS to Republicans.
The map-drawers in Raleigh received word that the federal government had concerns about the redrawn NC-1, which is a majority-minority district currently occupied by U.S. Rep. G.K. Butterfield (D).   Legislators said that adjusting NC-1 would likely cause a "domino effect" on the shapes of the state's other 12 districts.  Boy, were they NOT kidding:
Republican lawmakers had promised a ripple effect when they began redrawing their two-week-old map.

"That ripple effect turned out to be a tidal wave," said Michael Bitzer, a political scientist at Salisbury's Catawba College.
The new map released this week — which addresses federal concerns —  puts Democrats in even worse shape than the first map.  Congressman Mike McIntyre's (NC-7) home in Robeson County is now fully in the 8th district, currently represented by fellow Democrat Larry Kissell.  The Raleigh residence of  Congressman Brad Miller (NC-13) was placed inside the district of fellow Democrat David Price (NC-4).
Moore County was moved from NC-6, represented by Greensboro's Howard Coble (R), to NC-2, represented by freshman Republican Renee Ellmers of Dunn. Moore County spent decades in NC-2, prior to the 200o redistricting, which moved it over to NC-6.    This move makes sense, tying Moore to Harnett and other adjacent Sandhills counties with common interests.
… Republican Sen. Bob Rucho of Matthews, who chairs the Senate Redistricting Committee, said the changes grew from a need to address concerns about the proposed 1st District in eastern North Carolina …

… The implicit threat was a legal challenge that could send the state back to court and potentially block the use of any new districts for the key 2012 elections.

The change restored the five eastern counties to their current district.

"Some of the changes occurred because of our change of the 1st District," Rucho said. "We're trying to pay attention to the concerns that came about in the public hearing." …

… The 7th and 8th Districts, as well as the 11th, represented by Democrat Heath Shuler, would all become even more Republican than they were in the first GOP map based on an analysis of how they voted in the 2008 presidential election.

Dave Wasserman, an analyst with the Washington-based Cook Political Report, said Democrats raised objections to the first GOP plan "and ended up with an even worse map."

"It accomplishes several objectives," he said. "It reduced the possibility of a successful court challenge to the map (and) it hurts all three of the Democrats (Shuler, Kissell and McIntyre) who have appeal among conservative voters."

Rucho noted that no Democratic incumbents were put in the same districts in the original GOP plan.

"If you have to move (voters) for population shifts, what alternatives did we have?" he said. "We did our best not to 'double-bunk' them the first time."

Coble, first elected in 1984, said he's not particularly bothered by the changes in his 6th District.

"That means that eight counties don't know a lot about me and I don't know a whole lot about them," he said. "But we can learn."