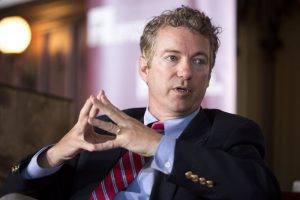 It's almost hard to believe senators from the alleged conservative party would talk about one of their more devoutly conservative colleagues like this:
Rand Paul took a stand, consequences be damned. And Senate Republicans are livid about it.

After driving the government into a brief shutdown over his demand for an amendment to cut government spending, the Kentucky Republican took friendly fire from a significant number of his Republican colleagues for delaying an inevitable passage vote in the Senate. They accused the senator of misusing the Senate's time for no real reason other than to draw attention himself. […]
*WHAT ?????  Someone in the Senate trying to draw attention to himself ????  THIS has GOT to be A FIRST. *
MORE:
"It's a colossal waste of time," said Sen. John Thune (R-S.D.). "He never gets a result."
Hitler got results.  The guy that shot up the concert in Vegas got results.  The 9-11 hijackers got results.  "Results" are not always good things.  Comments like this are a lot like what they used to say about the late, great Jesse Helms.  He accomplished a lot for conservatism and America by tying that place up in knots.  MORE:
"He's tilting at windmills. Don Quixote, you know," said Sen. Richard Shelby (R-Ala.). […]
Says the guy who, up until 1995, was a AFL-CIO endorsed DEMOCRAT.
MORE:
[…] The Paul-driven shutdown, however short it may be, was sparked by the libertarian-leaning senator's insistence that Senate Majority Leader Mitch McConnell (R-Ky.) grant him a vote to amend a budget deal that includes more than $300 billion in new spending over two years. McConnell refused, reasoning that would open up the bill to too many amendments. In turn, Paul declined to allow a vote before midnight, when government funding expired.

Asked if he's worried about singlehandedly inheriting the blame for a shutdown, Paul replied: "No. I think it's an important enough thing that we should have a discussion over."

"Somebody's got to stand up and fight," Paul said in an interview. […] 
THAT is what the two yo-yos allegedly representing us in that chamber promised to do when they campaigned for election and reelection.  How did they react to Paul's efforts?  Here's one of those yo-yos NOW:
[…] As the shutdown neared, Paul's colleagues ganged up on him as they grew increasingly frustrated with a member of their own party. Senate Majority Whip John Cornyn (R-Texas) blamed Paul directly for "wasting everybody's time."

"It's just grossly irresponsible," Cornyn told reporters, explaining why Republicans would not grant him his amendment. "Why reward bad behavior?"

Sen. Lindsey Graham (R-S.C.) said Paul is waging his fight "probably to help Rand Paul."

And Cornyn, McConnell, Graham and Sen. Thom Tillis (R-N.C.) tried repeatedly to set up a vote before the shutdown deadline. Each time, Paul objected, much to Tillis' frustration.

"Do you want to be a senator that wants to make a point or you want to make a difference? You know what? I don't see how points alone can make a change in America," Tillis fumed on the Senate floor. "You can make a point all you want. But points are forgotten. There's not a whole of history books about the great points of the American Senate." […]
What was in this bill that Thilli$$$ & co. were so anxious to vote on? Let's see:
Congress passed a $400 billion budget deal early Friday morning that busted through previous spending caps and suspended the debt limit for a year. [….]
*Niiiiiiiiiiiiice.*
Before we go, let's savor something surprisingly thoughtful from liberal pundit Chris Cilliza:
When Rand Paul took control of the Senate floor just before 6 p.m. Eastern, virtually every one of his Republican colleagues grimaced. Five years ago, they would have cheered him.

Paul's speech, which slowed attempts to pass a massive budget deal before the government shuts down at midnight, was a savaging of his party — a party that appears to have turned 180 degrees from the deficit hawks of the mid 2010s who insisted that government spending was ballooning out of control and was crippling the country.

"When the Democrats are in power, Republicans appear to be the conservative party," Paul said at one point. "But when Republicans are in power, it seems there is no conservative party. The hypocrisy hangs in the air and chokes anyone with a sense of decency or intellectual honesty."
Wow.  He could be talking about Raleigh, as well.
MORE:
Which is how it came to pass that just before 6 p.m. Thursday, McConnell was on the Senate floor pleading with his home-state colleague to drop his push for a vote on an amendment that would maintain the current budget caps. Paul's issue was a simple one: A two-year spending bill that would increase the federal deficit by more than $300 billion was being rammed through at the last minute — and without any amendments being offered.

And he's right about that too.

The natural result of our current style of governing — lurching from crisis to crisis — is this sort of showdown. Paul is right that it is absolutely ridiculous that a near-700-page piece of legislation that senators got their hands on around midnight Wednesday should be passed by midnight Thursday.

"The reason I'm here tonight is to put people on the spot," Paul said. "I want people to feel uncomfortable. I want them to have to answer people at home who said, 'How come you were against President Obama's deficits, and then how come you're for Republican deficits?' "

[…]