PPP: #NCGOV race (still) TIED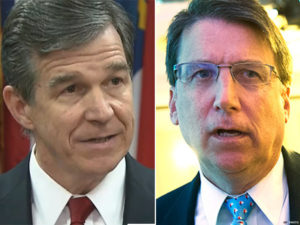 I know. I know. We are talking here about the crowd that gave us 'Deez Nuts.'   According to Public Policy Polling, the race for North Carolina governor is basically right where it was ONE MONTH AGO. 
They have McCrory and Cooper each at 41%, while Undecided nets 13% and Libertarian Lon Cecil bags 6 percent. The top two debated last week.  And both teams declared a resounding victory.  In all honesty, neither one of them lit any fires.  Cooper scored points for being polished and smooth — gubernatorial.  The actual governor was the opposite of polished — almost appearing to be trying out an impression of any Joe Pesci movie character. 
McCrory's saving grace so far is his defense of HB2. It appears to be holding a lot of conservatives in his camp who would otherwise be sitting on their hands at home on election day.  Listening to Art Pope, John Hood, and Dennis Wicker on some crazy HB2 "deal" would be the kiss of death. 
My fellow Helms organization alumnus Carter Wrenn has an interesting take on the governor's race thus far: 
It's hard these days to tell who's on top in the Governor's race: One day one poll has Pat up. A few days later the same poll has Pat down. Then another poll – by Civitas or High Point University or Elon University or PPP – has Pat up again.

It's a muddle.

But, sometimes, amid the chaos of a political campaign a sign appears: The only time Jesse Helms, in five statewide campaigns, challenged an opponent to debate was when he trailed Jim Hunt by twenty points – so when I saw Pat's press release challenging Roy to six debates I thought, That's not a good sign.