New weekly tracking polling info: GOP race for #NCSEN is really Brannon v. Tillis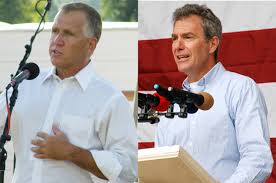 It's no secret that the US Senate race in North Carolina is attracting a lot of national attention.  I've posted before about the contacts I have within an organization closely watching the race.  The organization has a lot of influence within the DC beltway and across the country.  This group currently has not taken sides in the GOP race in North Carolina, but may at some point.
My sources have been running weekly tracking polls for some time now.   Their latest surveys have been focusing primarily on Tillis, Brannon, Harris and Grant — the foursome topping most polls out there.
Polling of likely Republican primary voters in North Carolina this week produced some interesting results.  Tillis leads the pack at 29.8 percent. Brannon polls second at 23.2 percent.  (That 6.6 percent margin for Tillis is in the ballpark of the RealClearPolitics polling averages.)  Harris is third at 11.9 percent.  Grant is fourth at 4.8 percent.   Roughly 30 percent of those surveyed were either undecided or considering another candidate.  

Pundits and other senatorial campaigns have been speculating that Brannon's inside-the-courtroom issues may fatally damage his campaign.  My sources tell me their polling showed Brannon lost a few points when the story first hit the media.  But since then, their polling shows Brannon has made up that ground and actually doubled his support.