#NCSEN: Two choices NOT NAMED Richard Burr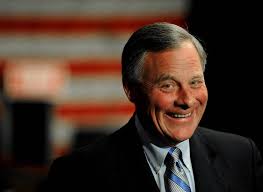 Former judge Paul Wright, who has run unsuccessfully for governor and Congress, has announced he will be challenge incumbent Republican Richard Burr for renomination in 2016.  Now, we have another name to add to the list.  Greensboro businessman Larry Holmquist, also an activist with Conservatives for Guilford County (C4GC), is stepping up to the plate to take on his neighbor from Winston-Salem.
You can sit around and gripe about our incumbents and what's happening in DC or Raleigh.  But, if there are no choices, that's all moot.  You've got two choices in the GOP primary that are not named Burr.  Both men appear to be substantial, thoughtful conservatives.  Granted, they don't have the multi-million dollar campaign accounts accrued from shaking down special interests.  
Burr has a 41 percent conservative rating from Heritage Action.  That puts him to the left of awful Lindsey Graham. 
If you're happy with being lied to about overturning ObamaCare and halting amnesty, go ahead and vote to give Mr. Burr six more years in DC.  If you think it's great that the Republican majority is continuing with the drunken-sailor cash management style the Democrats perfected, go ahead and send Mr. Burr back for six more.  If you think what happened in Mississippi to Chris McDaniel was FINE (Burr helped finance that), send him back for six more.
Find out what you can about Wright and Holmquist.  Give them a listen. Don't dismiss them because their bank accounts are small.  Eric Cantor dismissed David Brat.