#NCSEN Tillis: US Chamber endorsement COMING SOON (amnesty bogeyman, too?)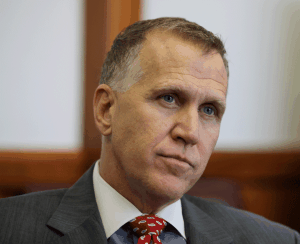 The heated issues of "comprehensive immigration reform" and amnesty have tripped up congresswoman Renee Ellmers and US Senate candidate Mark Harris.  It appears NC House Speaker — and US Senate candidate — Thom Tillis may soon get tossed in that briar patch.
Tillis bragged over the weekend that the US Chamber of Commerce will soon be endorsing his campaign for US Senate.  The Chamber is way out front nationally in pushing for amnesty for illegal aliens.  Tillis was recently endorsed by a NY-based SuperPAC that favors gay marriage and amnesty.  The CEO of Caterpillar — an Illinois resident and a leading national proponent of "comprehensive immigration reform" — has given big to the Tillis campaign through his wife.  Tillis also gave a speech to the NC Farm Bureau that gave the impression he was very much open to the idea of "comprehensive immigration reform."
I sure wish someone could provide some quantitative evidence that amnesty or "comprehensive immigration reform" or whatever you want to call it is a winning issue for a GOP primary.  (Or a general election, for that matter.) 
Recent polling shows Tillis deadlocked at the head of the GOP primary field with Cary physician Greg Brannon. Tillis had been criticized for not attending public events with the rest of the primary field.  He was in Davidson County — technically, his "backyard" — this weekend with Brannon and Mark Harris for that county's GOP convention.  Brannon won the Davidson GOP straw poll, as well as those held by the Durham County and Moore County Republican organizations.