#NCSEN: Tillis pal says Brannon "a convicted stock swindler" and "crook"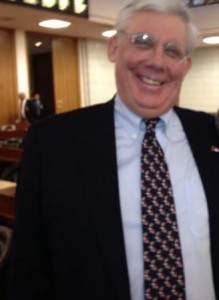 It looks like Russia is not the only jurisdiction with an "Ivan The Terrible."  It appears we've got one in North Carolina as well.  We've posted previously about the ravings of former state legislator Ivan Mothershead of Charlotte.
He's a passionate fan of state House speaker and US Senate candidate Thom Tillis.  Mothershead participates in a political email discussion group with several  public and private figures from the Charlotte area and elsewhere.  We've been privy to a number of these discussions Mothershead has participated in.  The former legislator has recently been expressing some glee about Tillis foe Greg Brannon's recent misfortune in the courtroom. Take this emailed Mothershead missive from earlier today:
Here is a question for all of you.  Brannon is clearly toast.

Wouldn't an honorable man withdraw?

To not do so wastes valuable resources that we could use against Hagan.

His "appeal" will take years.

He is a convicted stock swindler.  

You think we can elect him to the US Senate?

Not a chance.

Everyone needs to keep the goal in front of them.  Defeat Hagan.

Swallow your pride and join the team, Tillis is going to kick her ass.

Ivan
*Nice.* And FALSE.  Another participant in the discussion fired back at Mothershead:
I'll urge him to withdraw when Tillis withdraws for paying the richest ELITISTS in Charlotte an $87.5 MILLION BRIBE and funding the light rail when is going to cost the taxpayers BILLIONS in increased property/sales taxes. Honorable my ass !!!!!!!!!!!!!!!!!!!!!!!!!!!!!!!!!!
Mothershead then replied to that message:
Put down the bong. 

A legislative decision is not the same as a crooked personal decision.  

I hope you understand that.  You can disagree on policy, that does not make you a crook.

Cheating people in a stock deal MAKES YOU A CROOK.

Got it?

Ivan