#NCSEN: Tillis, Burr split on Omnibus spending orgy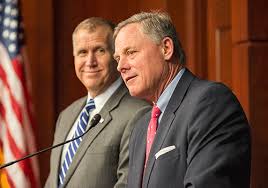 The travesty that got started in the House has been completed in the Republican Senate.  By a vote of 65-33, a $1.1 TRILLION spending orgy has passed and is headed to Barry Obama for his John Hancock.
In a move — * I am sure* — has nothing to do with the fact he is up for reelection, Richard Burr joined 32 others in a losing fight to try to stop this.  (Of course, he may have also been trying to make up for the sleazy attack on Ted Cruz, and his slam on people trying to slow or stop Muslim immigration.)
The Omnibus included Thom The Therrible's payback to the Chamber and The Farm Bureau, so you know which way the man from Huntersville went (a BIG hell, yes.)   of course, he has FIVE more years before he has to face the voters. So, he has a little more cushion from the "wrath of the rubes" than Tricky Dick does. 
Of the presidential candidates — Ted Cruz, Rand Paul, and Bernie Sanders all voted NO.  South Carolina's Lindsey Graham voted YES. South Carolina's other senator, Republican Tim Scott, voted NO. 
Again, a YES vote indicated support for full funding of: amnesty for illegal aliens, Planned Parenthood, sanctuary cities, and ObamaCare.