#NCSEN: The fat man is singing! (Richard Morgan thells on Thom.)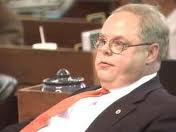 Moore County's Richard Morgan has evolved into one of the most polarizing figures ever in North Carolina politics.  Amazingly, during his time in the NC General Assembly, he was able to earn an equal amount of emnity from conservatives AND liberals. Morgan's last few terms in office were marked by infighting with — and backstabbing of — fellow Republicans, collaboration with Jim Black and the Democrats, and an official rebuke from the NCGOP hierarchy. Morgan was knocked out of power in the 2006 GOP primary — thanks to the people of Moore County coming to their senses, and some help from GOP leaders across the state.  (Click here to read a pretty good archive of Richard Morgan's political antics, courtesy of Thom Tillis supporter Dave Burton.)
One of Morgan's trademarks while in office was his vindictiveness.  If you crossed him, he was going to make you pay. One of the top targets of Morgan's wrath was Mecklenburg County legislator John Rhodes (R) – a solid conservative praised by groups like AFP.  Rhodes was a vocal critic of the collaboration between Morgan and Black.  The Mecklenburg Republican's efforts focused enough attention on Black that it brought scrutiny from law enforcement to the Democrat speaker.
In the run-up to the 2004 elections, Morgan and his political strategist Paul Shumaker went public with their efforts to recruit a primary challenger to Rhodes.  An opponent was publicly named, but — for some reason — he never filed and Rhodes got a free pass for the 2004 election cycle.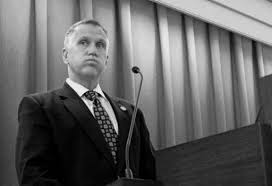 Things would be different in 2006. That year, former Cornelius town commissioner Thom Tillis surfaced as a challenger to Rhodes.  Candidate Tillis used a well-stocked campaign treasury to bludgeon Rhodes with accusations of ineffectiveness.  An unusual charge — given the fact that Rhodes had been completely unopposed in 2004. 
The Timeline.  Tillis has vehemently denied a relationship with Morgan.  In fact, he took to Facebook to claim that he did not meet Morgan until 2009.   Tillis' Senate campaign spokesman told The N&O's John Frank that Tillis did not meet Morgan until 2010. Morgan, when interviewed by Frank, remembered things very differently:
[…] In a recent interview, Morgan recalled his desire to see Rhodes defeated. "I talked to Thom in the early days," Morgan said, "and offered my encouragement."

Tillis won 1,805 votes to Rhodes' 1,061 in a race in which Tillis painted Rhodes as an ineffectual ideologue.

"From that point on I thanked him profusely for getting rid of John Rhodes in the General Assembly, who was just a pain in the butt," Morgan said. […] 
Hmmm.  The "early days."  THAT would mean, at most, 2006.  According to my calendar, 2006 is earlier than 2009 and 2010.   
Recognizing the inconsistency, Theam Tillis attempted some spin / damage control:
Morgan "did not recruit Thom, he was not an ally and he was not involved at any level," Tillis campaign manager Jordan Shaw said of the 2006 race.

Told of Morgan's comments, Shaw later added: "Any encouragement that was given was not a factor in the speaker's mind and certainly doesn't constitute recruitment."
Hmmm.  "Encouragement" vs. "Recruitment."  That sounds a lot like Bill Clinton trying to debate the definition of "is."  You "recruit" a young ball player to attend UNC.  You can also "encourage" a young ball player to attend UNC.
"Encouragement" from the then-speaker pro tem of the NC House had NO effect on Tillis' decision to run?  I'm also *sure* that Tillis using the same political strategist as Morgan — Paul Shumaker — and allying himself closely with all of Morgan's friends in the House — Brubaker, McComas, LaRoque, et. al. —  was also pure coincidence, as well.
So, we've got a connection with a foe of conservatives going back to 2006.  This year, the Tillis campaign is embracing Karl Rove — who has made no secret of his desire to finish off the Tea Party.