#NCSEN: Relax, green people. Thom is ONE OF YOU!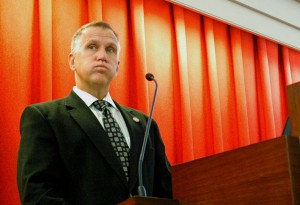 The environmentalist crowd and their drive by media pals are up in arms about the fact there has been no deal in the legislature regarding storage and disposal of coal ash. (Never mind that the EPA does not consider coal ash hazardous.) 
McClatchy thinks they know why there has been no deal on coal ash.  Their DC bureau has "discovered" that Tillis's fifth biggest contributor is the nation's largest privately owned coal company, Murray Energy Corporation of Ohio. 
They might be on to something.  We have documented a clear connection between contributing to the Tillis campaign and getting positive results for yourself in the legislature.  (Film incentives.  Beer regulations. UNC board of governors seats.)
One has to wonder if the folks at Murray Energy are aware of Tillis's 2007 vote in the state House supporting Democrat-backed alternative energy mandates. Those mandates set "goals" for the share of energy providers' products that have to be from alternative energy — i.e., not coal.   Measures like that are really good at driving up utility bills.  In 2013, state Rep. Mike Hager introduced legislation capping the level of alternative energy mandates.  Tillis and his leadership team quietly worked to make sure Hager's bill went nowhere.  
i wonder if Murray knows that Tillis has taken quite a bit of campaign money from people with serious investments in alternative energy. Or that he is a major investor in a bank with alternative energy financing as a central business strategy. 
One has to wonder why the environmental movement is going batty over Tillis.  He's actually been quite friendly to their agenda.
On the other hand, it has also become crystal clear that — to get Thom Tillis on your side in a legislative debate — you need to be the last person to put a check in his hand.