#NCSEN: PPP says Hagan grows lead, Tillis holds, Haugh slides a little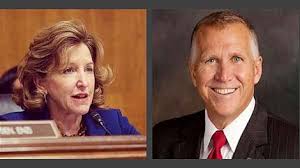 Leftist pollster Public Policy Polling has released new numbers on the US Senate race here in the Tar Heel State showing Kay Hagan expanding her lead on Republican Thom Tillis and Libertarian Sean Haugh.  The survey — taken from July 17 through July 20  –has Hagan at 41 percent, Tillis at 34, and Haugh at 8 percent.
In mid-June, PPP had Hagan at 39, Tillis at 34, and Haugh at 11.   (Around the same time in June, Civitas had the race at Hagan 42, Tillis 36, Haugh 9.)   Tillis partisans CAN dismiss the survey on the basis of PPP's partisan leanings and the fact that it is so early in the campaign process.  
But let's compare these findings with Hagan's 2008 race against the incumbent Republican Elizabeth Dole.  The current spread from PPP is the biggest lead Hagan has had in a Senate race poll since TWO DAYS before the 2008 general election vote.   In 2008, Rasmussen appeared to have the most accurate polling on the Dole-Hagan matchup.
Rasmussen had Hagan with a one point lead over Dole on May 8, 2008.  No one produced a poll with Hagan leading again until PPP did on August 23, 2008 (42-39).  With the exception of two SurveyUSA polls (early September and October) and one from Democracy Corps (late August), the polls had Hagan leading the rest of the way.
In 2008, Dole — the incumbent — appeared to be in command until the bottom fell out in mid-August.  Let's wait a month to see if the pattern holds true THIS YEAR for the incumbent.
PPP's current polling has Hagan with a 40 percent favorable rating to 24 percent for Tillis.
Fifty percent of PPP's respondents said they didn't think it was proper for Tillis to be out fundraising for the Senate race while the legislature is still negotiating on a budget.
The current poll shows folks supporting the Libertarian favoring Hagan as their second choice by a 42-39 margin.  Forty-four percent of respondents were Democrats while 34 percent were Republicans and 22 percent were "Other" or "unaffiliated."   A total of 43 percent of respondents describe themselves as "conservative."