#NCSEN: NCGA helps Tesla, car firm's lawyers give BIG to Thom Tillis Senate campaign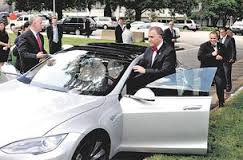 We've been doing a lot of campaign finance report reading lately.  We've found some interesting things about beer and movies on the Thom Tillis Committee's financial reports.  Our latest find — some large donations from employees of a Massachusetts law firm — had us scratching our heads.
On June 27,  Massachusetts resident Jeanette Campbell, identified on Tillis campaign reports as an employee of the Campbell, Campbell, Edwards & Conroy law firm, gave Tillis $250.  On September 12, she gave $2350 to the North Carolina speaker's senate campaign.  On September 30, it was reported that Ms. Campbell gave $2,600 to the Tillis campaign.
On September 3, Richard Campbell, of the same Massachusetts law firm, donated $5200 to the Tillis senate campaign.  So, that's more than $10,000 from two employees of a Massachusetts law firm.  Two people who cannot vote in the May primary for US Senate.  
What's the tie?  We couldn't find any evidence of the firm having North Carolina offices.  But we did find this — Richard Campbell is an attorney who has represented Tesla Motor Company.    So, what does that mean?  What's the connection between Thom Tillis and Tesla Motors? 
At the end of June, state House leaders were instrumental in killing legislation that would have kept Tesla from selling cars in North Carolina without having full-blown showrooms in the state.  House speaker Thom Tillis — now running for US Senate — got a test drive and was quoted throughout the media about how impressed he was with Tesla vehicles.   And NOTHING moves through the House without Tillis' blessing.