#NCSEN #NCGA: A North Carolina conservative maverick rides again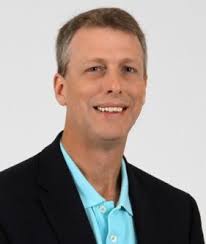 I first heard about John Rhodes in 2003 while he was serving in the North Carolina House.  He was raising questions about the ethics of Democrat House speaker Jim Black and his Republican co-conspirator co-speaker Richard Morgan.  I was involved in Moore County in an insurgent effort to end Richard Morgan's political career via a primary.
Rhodes was demanding transparency in House operations — an effort that won him praise from an unlikely source (for a conservative), The Charlotte Observer.  Black, Morgan and the rest of the political establishment in Raleigh came after Rhodes with a vengeance.  Rhodes had his legislative aide taken away from him.  His attempts to speak on the House floor were shut down by Black and Morgan whenever they presided over the chamber.
(One House insider passed on a great story illustrating this.  Rhodes was on the floor trying to speak as part of a debate.  Morgan was presiding from the chair.  Morgan asked "Is there anyone else seeking to speak on this matter?"  Rhodes stood, but Morgan ignored him.  Rhodes stood on his desk and waved his arms — trying to get Morgan's attention.  Morgan still ignored him, saying: "Seeing no other speakers, the debate has ended and the question is called.")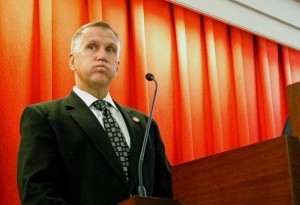 In 2004, Morgan, Black & co. tried to find a primary for Rhodes.  That effort failed.  In 2006, they found one.  Former Cornelius town commissioner Thom Tillis filed to challenge Rhodes in the primary.  One of Tillis' primary pieces of ammo against Rhodes in the primary was that Rhodes was "ineffective."  The charge originated from the findings of an annual survey by The North Carolina Center for Public Policy Research.  NCPPR regularly surveys lobbyists on which legislators they think are most "effective." It's a popularity contest.  The most senior members of the majority party tends to be ranked as the most effective. Rhodes and his conservative comrade-in-arms — John Blust (R-Guilford) — regularly ended up ranked 119 and 120 out of 120 House members.  The lobbyists didn't like Rhodes.  And that — in the eyes of Theam Tillis — was a bad thing. 
Rhodes was defeated by Tillis in 2006.  He left the House — as well as politics and the GOP — in 2007.  He re-registered as unaffiliated and spent time building up his real estate business in Mecklenburg County.
As Rhodes left  Raleigh, the targets of his criticism were getting their just desserts.  Richard Morgan lost his primary.  Jim Black left office and got indicted and convicted in federal court.  The establishment bent over backwards to pin the "kook" label on Rhodes.  The problem with that?  Rhodes was proven to be 100 percent RIGHT.
Rhodes took down TWO House speakers in 2006-2007.  In 2014, he has stepped back into the limelight to bring down ONE MORE.  On Friday, Rhodes held a press conference where he called on Thom Tillis to resign as speaker and suspend his US Senate campaign.  The reason?  Rhodes is formally requesting the Attorney General's office initiate an inquiry into the Tillis-overseen appointments to the UNC Board of Governors.  Some emails and news reports at the time of the appointment process suggest a possible pay-to-play arrangement.
Establishment types and Tillis supporters were quick to brand Rhodes' re-emergence as "sour grapes" resulting from an eight year long grudge.   Rhodes stayed quiet for eight years — allowing Tillis to make his mark in the legislative district and on Jones Street.
Rhodes notes that he is now registered unaffiliated, is not involved in any political campaigns, and has no future political ambitions.  The public information on the UNC appointments is pretty troubling.  It is my understanding that Tillis made the Republican caucus re-vote when one of his choices — a big campaign contributor — did not get elected.  It's worth getting some clarification on.
In an era where the mainstream media takes dictation and asks NO tough questions, having someone like John Rhodes back in action, telling it like it is, is very welcome.  Eight years ago, Rhodes was right on the money.  Let's see where his current efforts take us.