#NCSEN Rhodes files requests for multiple probes of Tillis activities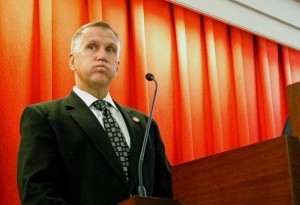 Former North Carolina state legislator John Rhodes is putting his money where his mouth is.  On Friday, he held a press conference expressing concerns about alleged activities of state House speaker Thom Tillis.  Rhodes has followed that up  by submitting written formal requests for formal investigations of Tillis by the North Carolina state board of elections, the House Ethics Committee, and the North Carolina Attorney General's office.
During that Friday press conference, Rhodes also called on Tillis to resign the speakership and suspend his Senate campaign until these probes can be completed.
Rhodes' complaints center around the controversy related to recent appointments to the University of North Carolina Board of Governors.  A number of high-dollar donors to the Tillis House campaign, and Tillis-connected SuperPACs, were nominated to the board and pushed through the House by the speaker's office.