#NCSEN: Is Dr. Evil advising the Mark Harris campaign?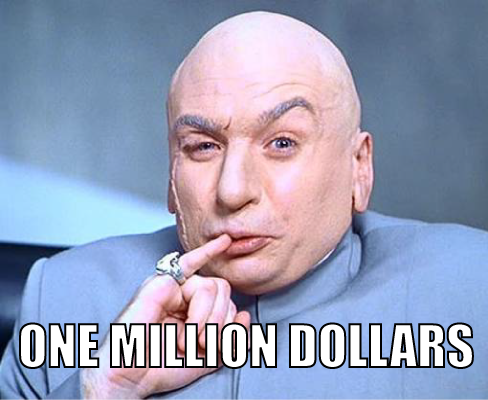 Fans of the Austin Powers movies will remember Dr. Evil — the villain who promised to abort his plans to destroy the world if he was paid the *exorbitant* sum of ONE MILLION DOLLARS.  
We posted an item about political mastermind Robin Hayes passing the plate for Rev. Harris' campaign.  My post focused on Hayes' involvement.  But a reader pointed out a more interesting point: the stated fundraising goal of $24,000.  The tone of the fundraising email suggests that the campaign is struggling to MEET that end-of-quarter goal.  
Hopefully,  for Harris' sake, the $24,000 number is a typo. $24k is an admirable goal for a city council, county commissioner, or — in some districts — a state House seat.  You need to set your sights a wee bit higher for a US Senate race.