#NCSEN: As Theam Tillis gloats, the speaker's "right hand man" wins a new trial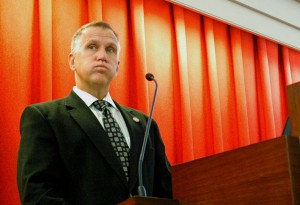 Establishment Republicans giggling about Greg Brannon's unfavorable courtroom verdict today might want to stifle it and pay close attention to what happened today in a Greenville courtroom.  Former legislator Steven LaRoque — convicted last year on federal corruption charges — has won a new trial on all counts. LaRoque was a close ally of state House speaker and US Senate candidate Thom Tillis while in the state House.  The speaker rewarded his friend Laroque with the chairmanship of the prestigious House Rules Committee, which works closely with the speaker's office to determine the fate of each and every introduced piece of legislation:
 […] LaRoque, in explaining to jurors the House Rules Committee that he co-chaired, said he was Tillis' "right-hand man" in the state legislature and the Rules Committee made sure rules were followed, but also manipulated legislative rules. "Were you good at manipulating rules, sir?," Duffy asked. "I wasn't, but I saw that other people did," LaRoque said. He added, "It's politics."
According to reports, the US Attorney has 30 days to file an appeal of the judge's decision to grant LaRoque a new trial.  That would put a new trial for LaRoque starting in April.  Hmmm.  There's an election in May ….
In the first trial, LaRoque was eager to boast about his close working relationship with Tillis.  Raleigh sources tell me that LaRoque has soured on Tillis lately — believing his old friend, the speaker, has thrown him under the bus. Could we hear more at an upcoming retrial?