#ncpol: Out-of-state GOPers, scandal-tained Dem coming to raise $$$$ for Wayne Goodwin
It's always interesting to see what pops up in my mail: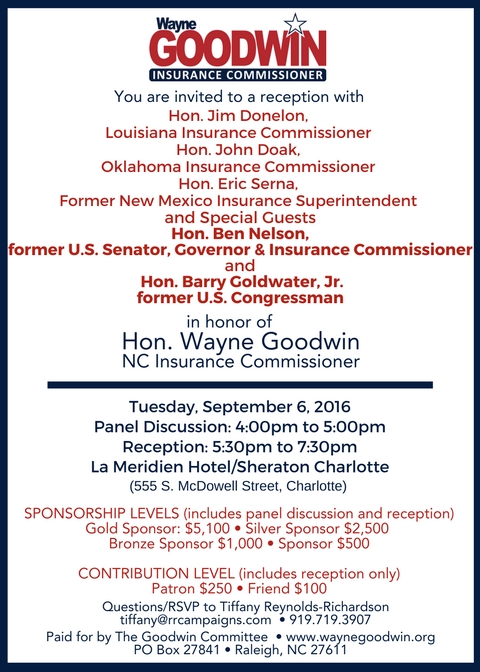 Let's take a look at the sponsors of this little soiree.  Jim Donelson is a Republican.   John Doak is a Republican.   Barry Goldwater, Jr. is: (1) son of the conservative legend, (2) a former Republican congressman from California, (3) a pro-solar subsidy activist, and (4) a veteran mover-and-shaker in the securities and insurance worlds.
Ben Nelson, the former Democrat US senator from Nebraska, and former New Mexico Insurance superintendent Eric Serna are the lone Democrats.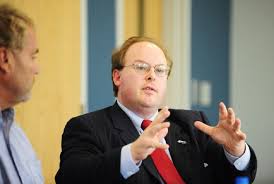 Serna has an interesting back story.  While in office, Serna was accused of intervening in his daughter's auto insurance claim.
Here's The Santa Fe New Mexican: 
[.. F]ormer state Superintendent of Insurance Eric Serna, who retired in 2006 amid a flurry of allegations that he gifted Century Bank with a contract as the depository for millions of dollars worth of insurance company security money after the bank donated $129,000 to his nonprofit Con Alma Health Foundation. Eric Serna also was accused of having waived fines for companies that had donated to Con Alma and other nonprofits. The elder Serna was never charged with a crime, but one of his deputies, Joe Ruiz, who maintained he was only following instructions from Serna, was convicted on numerous counts and sentenced to four years in prison.[…] 
Here's more from the Santa Fe paper: 
[…] In 2008, Ruiz was sentenced to four years in prison after he was convicted on 30 charges related to a scheme in which he got insurance firms to donate to charities in lieu of paying fines. Ruiz claimed he was only following orders from his boss at the time, former Insurance Superintendent Eric Serna. Serna, a former State Corporation Commission member, had stepped down from his job as superintendent of insurance in 2006 after the Public Regulation Commission agreed to drop its investigation of him.[…] 
And HERE is The Albuquerque Journal from 2006:
Embattled state Insurance Superintendent Eric Serna agreed to retire in a settlement approved Thursday by the Public Regulation Commission.
    Serna, who has been on paid leave since last month, is under investigation by the attorney general for his dealings with a bank that does business with the state Insurance Division.
    He will retire as of June 14 and has agreed not to sue the PRC under a settlement that Vice Chairman Jason Marks described as allowing the superintendent to leave "on a dignified note."
    Serna in a letter to the PRC said the "inaccurate rumors, innuendo and speculation" had been disruptive, and he hoped his retirement would allow the division to re-focus on its work.
"The incessant attacks and baseless allegations from those who hope to attain some political gain at my expense is sad and hurtful," he also wrote.
    The mid-June date allows Serna to attend a Washington, D.C., meeting of the National Association of Insurance Commissioners, of which he is secretary-treasurer. No state money would be spent on the trip and he could not vote on substantive issues under the agreement.
    Until that time, Serna will be on vacation leave and subject to the same restrictions of his administrative leave: no official actions, no contact with PRC employees and access to his office only to pick up personal belongings.
The attorney general's investigation will continue, although the PRC will drop its separate internal investigation of Serna.
Attorney General Patricia Madrid said in a statement that Serna's retirement is "an appropriate action." She said she didn't know when her office's investigation would conclude.
Gov. Bill Richardson said in a statement he supported Serna's decision to retire. In 29 years of public service, Serna has "served the people of New Mexico ably, promoted economic development and helped the underprivileged," Richardson said.
The five-member PRC accepted the agreement with only Commissioner E. Shirley Baca voting no. She said she didn't object to Serna's retirement, but said any settlement contingencies amounted to "holding us hostage."
    She objected to Serna's keeping the position and title of superintendent for another month.
    "It's like nothing ever happened. … Suddenly he just retired," she said in an interview.
[…]
Century Bank, of Santa Fe, won a contract in 2003 to act as the depository for hundreds of millions of dollars in securities that insurance companies are required to post.
    For a time, the division's contract with the bank included fees higher than allowed by law.
The bank has contributed $129,000 to Con Alma Health Foundation, which Serna helped found. He was its board president until he resigned that position recently.
    Serna has said the contract with the bank had nothing to do with its donations to the nonprofit Con Alma, which provides grants to health providers.
    Separately, Serna has been named in a lawsuit that alleges that title insurance firms tried to persuade him to raise rates by donating to Con Alma. The superintendent called the allegations "laughable."
  And Serna recently defended his intervention in an automobile accident insurance claim involving his daughter, saying he didn't do anything improper.
[…]
Yeah.  That sounds like a *great* guy to have stand up for you at a campaign fundraiser.
It looks like Goodwin, a Democrat, has some potential Serna-like trouble swirling around him.  He earned some publicity about his dealings with a lobbyist who apparently wasn't actually registered as a lobbyist. 
For what it's worth, Republican Mike Causey faces off against Goodwin in November.