#ncpol NCGOP HQ Twitter tactics raising eyebrows, drawing protest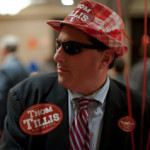 Larry Holmquist knows all about it.  The Greensboro Republican running in the US Senate primary against Richard Burr has gone round-and-round with NCGOP HQ and Dallas Woodhouse over what could arguably called favoritism toward Burr.
Now, we have an issue with the state party's Twitter account and its lack of mentions of ANY primary challengers to incumbent Republicans.  A quick review of the timeline finds a lot of retweets of, and praise for, Richard Burr and Pat McCrory.  But we've got nothing there about Robert Brawley, the former legislator challenging McCrory's renomination, or ANY of the three Republicans seeking to deny Richard Burr renomination.
Greg Brannon, a 2014 US Senate candidate who is running again this year,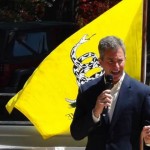 has noticed this phenomenon and registered a protest with party leaders.  It is my understanding that party executive director Dallas Woodhouse got Brannon's communication and simply "forwarded it" to "the party's legal counsel."
Will it ever make it out of the lawyer's office?  Is forwarding something to the party's legal counsel code for feeding it to the shredder or trash can in Dallas's office? 
Look, we know Dallas and Ricky Diaz are HUUUUUUUUUUGE Pat McCrory fan boys.  And that's fine.  But in their current roles, they should be promoting the interests of THE PARTY — which is bigger than Gov. Pat.