#ncpol: Meet the chairman of the House Committee on BIG Cojones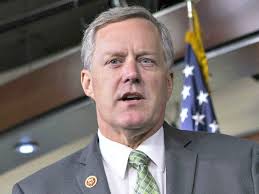 There he goes again, showing his colleagues how to behave like a conservative.  One has to wonder how long it will take for Patrick McHenry (R-NC-10) to run whining to the drivebys about his neighbor in the 11th, Mark Meadows?    Will Thom Tillis scold him publicly like he did Ted Cruz? 
Congressman Mark Meadows has the attention of the WORLD after spearheading a procedure to remove Speaker John Boehner from power.   Here is the measure Meadows submitted to get the ball rolling. 
Meadows admits to knowing he's made himself quite a target taking on one of the most powerful pols in DC:
[…]  If the North Carolina Republican's challenge is successful, it would force a new election for speaker — something that hasn't even been attempted for 105 years and has never succeeded, reports the Post's Mike DeBonis. Meadows said on Tuesday that he wouldn't press for a vote before Congress leaves town for the August recess.But in a talk-radio interview Tuesday night, Meadows predicted the House GOP leadership would call lawmakers and drum up a Wednesday vote to save Boehner.

"They will call most of the members tonight and try to bring this up and have a vote on it tomorrow [Wednesday]," Meadows told host Mark Levin, admitting that tactic was only one that Boehner's team could employ.

"These will be very difficult days. It will not come without retribution and that's to be understood."
Meadows has played this very smart.  The delay actually helps make the move look less personal, and more in line with trying to salvage the Republican Revolution that started in 2010.  MORE: 
It's certainly in the interest of Boehner's team quash any rebellious sentiment that could grow over the August recess.

One of Boehner's staunchest House critics, Rep. Walter Jones Jr. (R-N.C.), suggested that anti-Boehner Republicans might be trying to gin up support among conservative media  — a drumbeat that could get louder while lawmakers are home in their districts.

"I hope the talk show hosts who are so frustrated would pick up on this thing and beat the drum so loud that other members feel like they can be encouraged to join this effort to change the leadership of the House," Jones said, according to DeBonis.

DeBonis added that Meadow's motion, however, is unlikely to succeed unless Democrats joined with a small faction of Republicans to try and topple Boehner — and Democrats have suggested they aren't interested in such a move.[…] 
Don't be so sure about that.  Though, they could be quite happy with Boehner.  I mean, what haven't they got out of him?  Replacing him with someone less orange and less weepy might make things a little tougher on the House minority.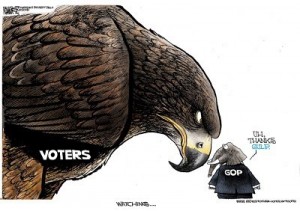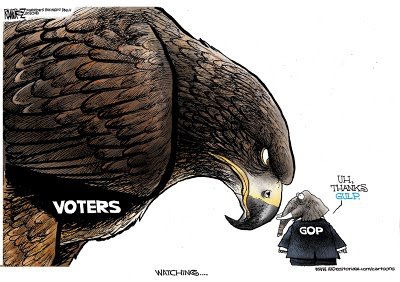 It's worth pinning down each and every member of our congressional delegation and asking them about the points raised in Meadows's filing.  Then, ask them — based on those statements — will they vote to support the measure to vacate?
If this fails, Walter Jones will look like an insider and a Boehner buddy compared to Meadows.  Meadows's new office space will likely be moved to somewhere slightly north of Richmond. 
But this all turns the conversation to a very important point:  Is your time in Washington about keeping Boehner and the boys happy, or is it about actually representing the folks back home who sent you there?  We know how Jones and Meadows feel.  Where do you stand: Mrs. Ellmers, Mrs. Foxx, Mr. McHenry, Mr. Pittenger, Mr. Hudson, Mr. Rouzer, Mr. Holding, and Mr. Walker?